Recommended
A Trip to the Past and the Future

By: WellSteveDuh

posted at Dec 27, 2009 8:01 pm
Gaming. Probably man's greatest invention. Gaming captivates so many people due to its ability to give the player a new body and a new world to explore. It is truely something enjoyed by its currently estimated 69% of the world's population. The gaming industry has taken off from its starting roots in 1958 with "Tennis for Two" (not Pong). Gaming may seem amazing now, but in the near future, our prized games and system of today will be like "Tennis for Two".
Tennis for Two recreated for its 50th anniversary.
Gaming in the not-too-distant past. Super Nintendo was released in America in 1991. This 16-bit system layed the foundation for great gaming with its focus on gameplay over graphics. Many great games were made for the SNES to make Nintendo the leading game company at that time. Following the sucess of the SNES, Nintedo released the Nintendo 64 gaming system. This badboy brought something new to the table, good (at that time) 3D graphics and gameplay(even though PlayStation by Sony did come out with 3D graphics, their 32-bit CPU were nothing compared to the 64-bit CPU of the N64). Many great games such as SuperMario 64 and The Legend of Zelda: Ocarina of Time were made for the N64. Fast forward to the year 2000. PlayStation2 is released and with it, a legacy. It was and still is the best selling console to date. It sold over 138 million units and currently has over 1,900 games for it. A year later, Microsoft enters the console gaming industry with its Xbox gaming system. The most and probably the best distinguishing property of the Xbox is its online gaming capibilities. It gave new meaning to console gameplay by providing great multiplayer games for its users to play online.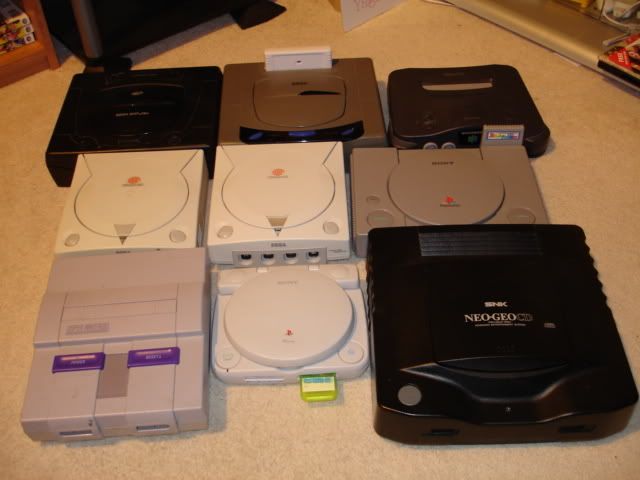 Some gamer's jumble of older gaming systems. Brings me back.
Now that we have taken a quick glace at the past, we will turn the clock forward, past our current time, to the future. Every year we make major innovations that push the gaming industry to the next level. In this coming decade, we can expect to see some really amazing things. Virtual Reality will soon be fully immersive and avialable in homes around the world. The 5 senses will be recreated to let gamers truely enjoy a new world of gameplay. Smell, Taste, Touch, Sound, and Touch will be experienced in games just like they are in our every day lives. Not too much is known about current development, but testing is taking place. This system would be totally ground breaking, and potentially dangerous. From what I gather from my reasoning, there would have to be safeguards put into these virtual reality systems. There would have to something to stop the system so somebody doesn't use the new technology to "leave" this reality and end up killing themselves or frying their brains. Overall, if made with care and caution, a fully immersive system could provide unlimited ammounts of fun and friendship as well as a way to learn new things and pave the way for a more innovative world (online schools and work taking a new turn possibly?).
Possibly what you will be wearing when playing in the future.
No matter if we review the past or look to the future, gaming has become a large part of our culture. There is nothing that shows this is going to change, and that doesn't sound bad at all... unless it gets out of control...
Bookmark and share to your friends