What is Neo Steam?

Neo Steam: The Shattered Continent is a steampunk MMO. It takes place on a continent called Chrysalis, in which magic and science worked together, in harmony. Eventually, a powerful substance called "Neo Steam" is found by a subset of the Pom race known as the Maestros. This caused Chrysalis to enter a "Golden Age," a time perioud where technology and knowlegde can flourish and expand.

The King of Chrysalis, corrupted by his power, feared he would be overthrown by the Maestros. He banished them to an island where they continued developing Neo Steam technology. Suddenly, a gigantic earthquake rips the continent into 3 parts. The Taxn Alliance, the Republic of Rogwel, and the Kingdom of Elerd are formed respectively. All three countries suffer greatly until they dig up the ancient Maestros's technology, which they use with the power of Neo Steam to wage war against each other for power and control of the Neo Steam. That is where your story begins.

Character Creation

The character creation process is fairly simple. Before you create your first character, you are forced to choose between Rogwel and Elerd. I chose Elerd, for the sake of simplicity. You then open the character creation screen, which is fairly simple. You choose your name, race, class, gender, head style, hair color, and skin color (hair color and skin color are under "Looks"). The races include Humans, Taxn Humans, Elves, Pom, Lupine, Tarune, and Lyell. The classes include Warrior, Mystic, Machinist, and Scout. The rest is merely cosmetic.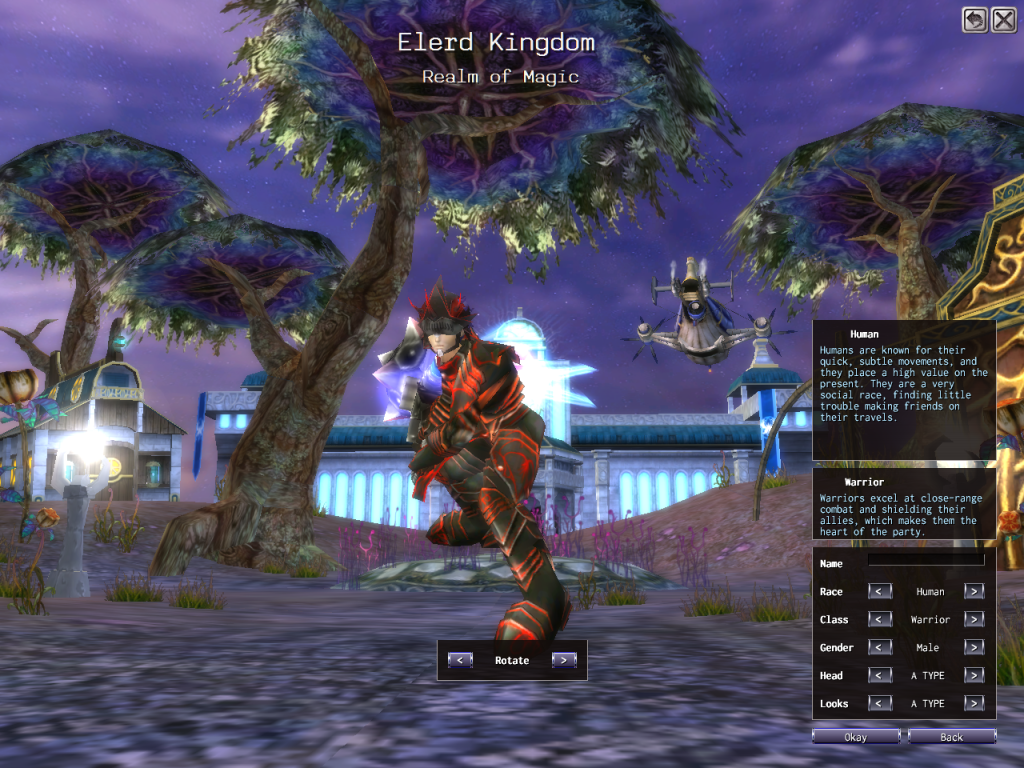 User Interface and Graphics

My first impression of the UI was... well... It was ugly. And graphically, it was poorly designed. The action bar and the side bar stick out like a soor thumb in this steampunk setting. I honestly don't know how to describe how it just doesn't fit in with the vibe the game is trying to put out. The only thing that works well with the steampunk setting is the Status bar where it shows your HP, MP, Stamina, and Neo Steam. Functionally, you've got what a normal MMO has; A map, community (your party, friends, and guild), quest log, character and pet screen, skill screen, inventory, system (options), and help. The only thing I see that's different on the UI from most MMOs is the dual action bar, which actually is quite nice. Neo Steam also has a title system, which, while a nice feature, is nearly completely useless.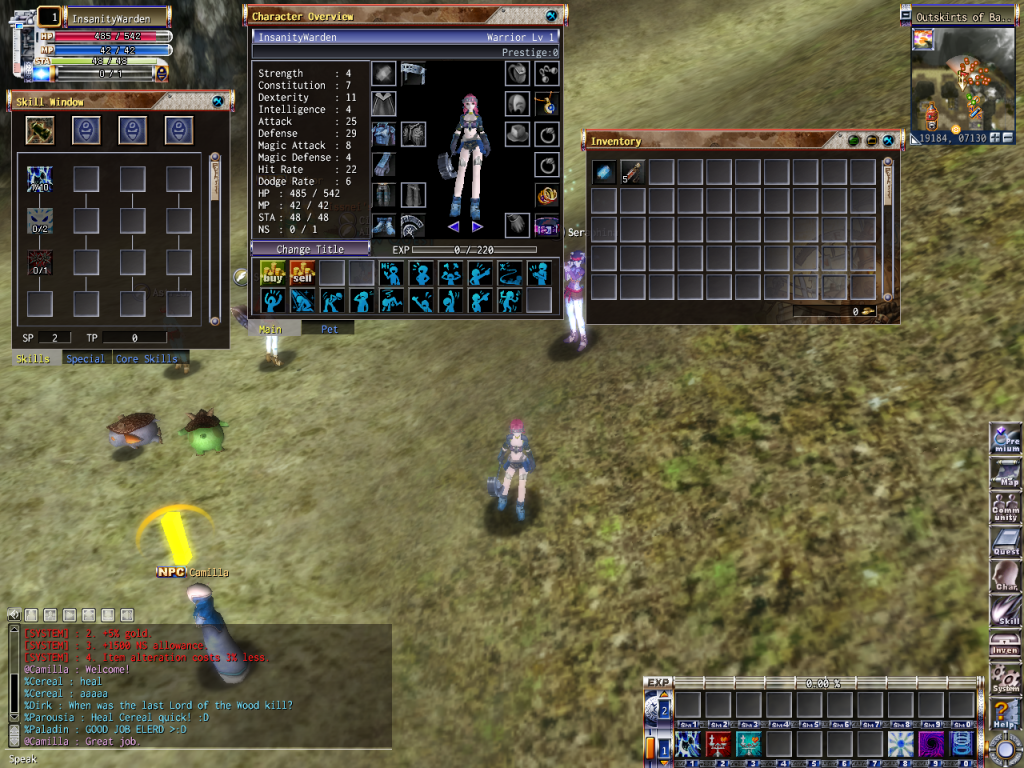 Look at this UI. very disappointing. And so are the graphics. For shame.

The graphics, are... not good. Severely disappointing for an MMO this day and age. It reminds me of Legend of Zelda: Ocarina of time, or a very early PS2 game. This is not a good thing, even though I love LoZ. Also, all my graphic settings are on high, and at high, things looks terrible, jagged edges everywhere. I shudder to think what it would look like with all low settings. The only possible plus side is that a terrible computer can play it. Trust me, that person wouldn't be missing much graphic-wise.

Gameplay

Depending on what class you choose, you'll start off in one of 3 countries. I started off in Bashitunka, in the Taxn Alliance. I quickly checked out the style of my armor and weapons. Which, while they were nicely done, were not impressive. But it was much better than the starter armor in WoW, that's for sure. I digress. I talked to the first NPC and I am suprised by something; Fixed camera conversations. Which I love.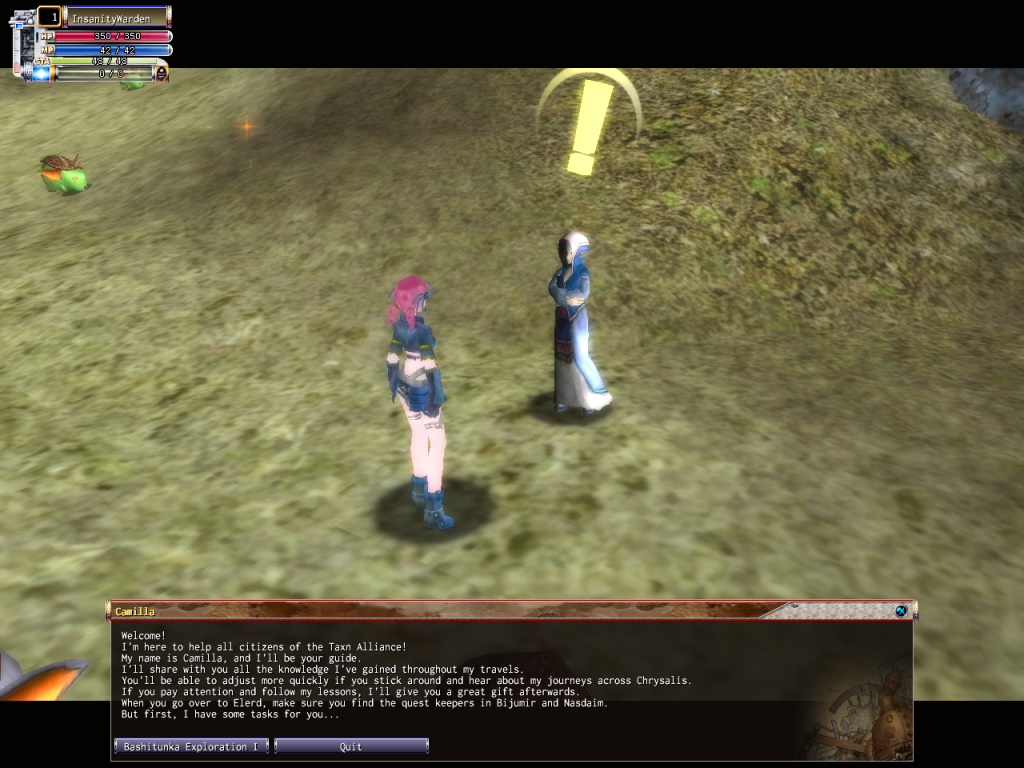 So, I got my first quest. I went to complete it, and noticed something was strange with my movement. When I would move with the WASD keys, my character would jerk around. It would stop when I wouldn't want it to, it would go in the opposite direction. I was livid with frustration. I had to click on where I wanted to go, and I HATE that. So, after getting used to click movement, I killed off these cute little monsters, claimed my reward, rinsed, and repeated. I quickly recieved a "Care Package." I opened it up and was greeted to some lovely items, AND another Care Package to be opened at a later level. I also got a strange club weapon, but I cannot equip it yet. I soon learn I have a little pet, who, at the time, was worthless, but would come to be my best friend.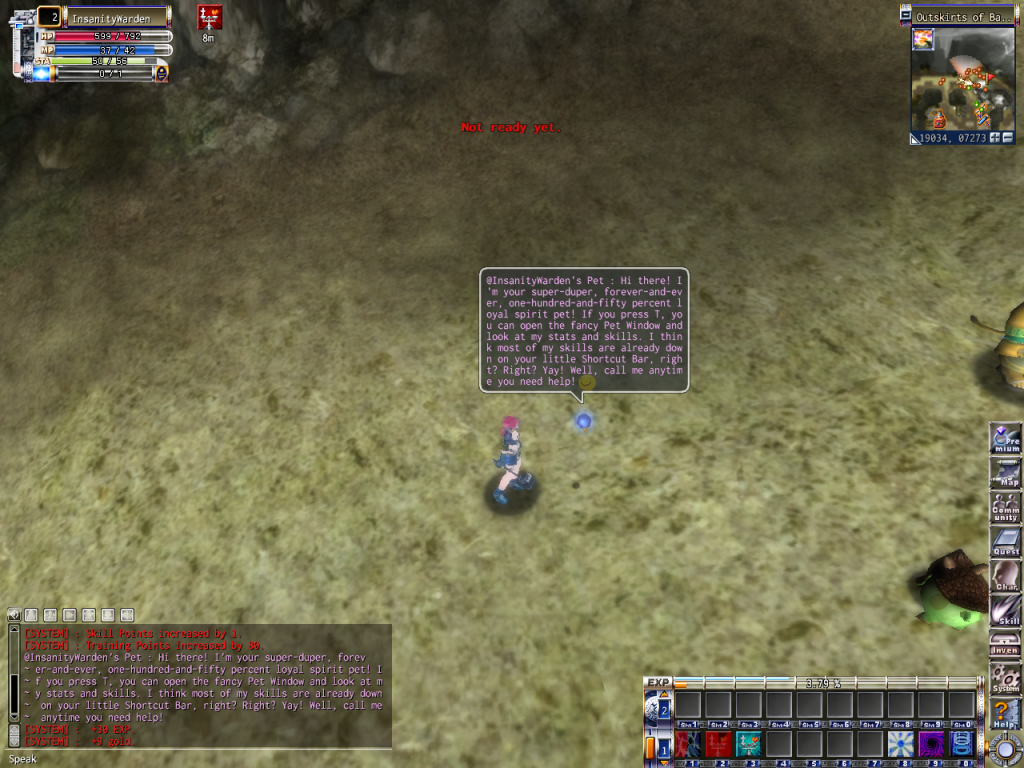 I continue playing through, sad at the lack of steampunk, until I hit the level to equip that club. I put it on.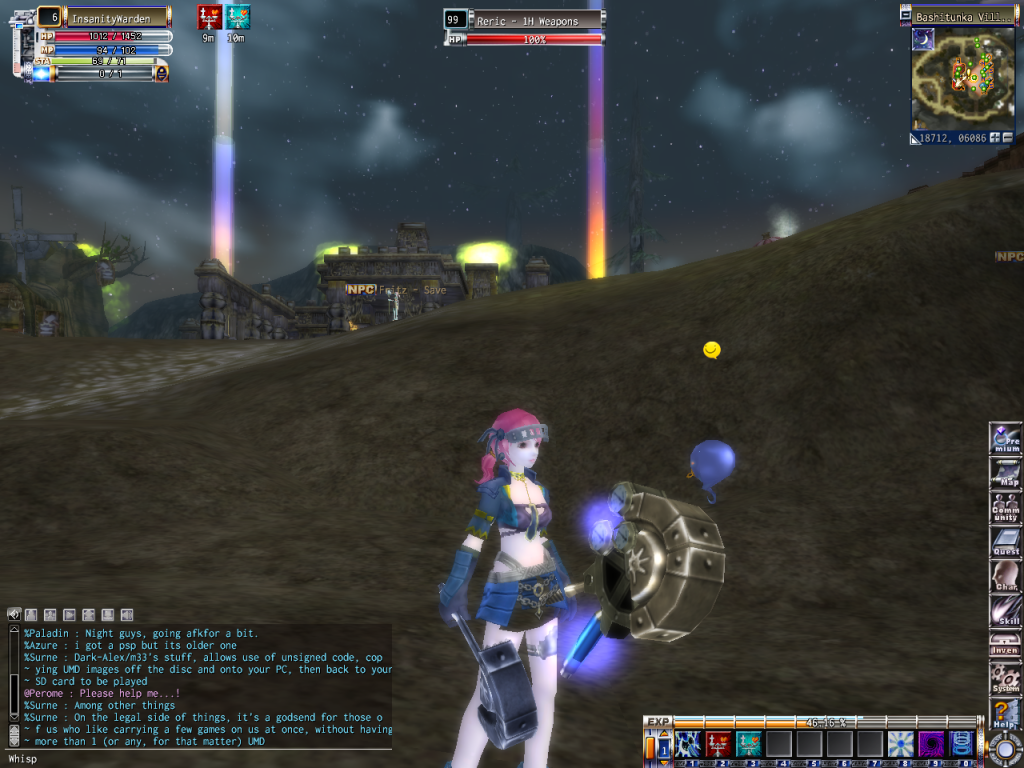 HOLY HELL. THIS is what I wanted from this game. Now I'm hooked. I got this weapon at level 6! What other AWESOME armors and weapons could this game hold? So I walked into the town, and what do I see? Amazingly designed buildings. Neo Steam resuppliers. Steam forges. THIS is steampunk. I was getting excited at this point. So I continued questing, having a lot of fun. Fighting giant boss monsters. Getting 1337 l00tz. Then I realize; I've had more fun on this MMO than I did on WoW.

So, I reach level 10, and I learn something; I get to specialize in what I want to be in my class. As a Warrior, my choices were the Crusader, the physical warrior that even gains magic skills, or the Templar, the defensive tank that gains healing skills. Being the magic and power buff I am, I chose Templar. I gain a new armor set, and am told to take a zepplin to the Kingdom of Elerd. This is where I can train my pet to become useful, and I learn something neat. There are training areas where you just AFK and gain TP, or training points. These training points are what you use, along with skill points, to upgrade and buy new skills. So, that is where I am right now, as I'm writing this; Grinding TP.

Things I Love About Neo Steam

Fun gameplay




Incentives to entice new players




Steampunk themed weapons, armors, towns, and transportation are awesome, and hook you.




Leveling that is easy in the beginning, good for catching up newbies, but toughens up after level 10




Level 15 required to talk in world chat - THANK YOU ATLUS. JUST THANK YOU.




TP training areas - A great idea to help people who don't have time to play the game, but that doesn't level them, so they have to play.




Hilarious and odd things - See attached picture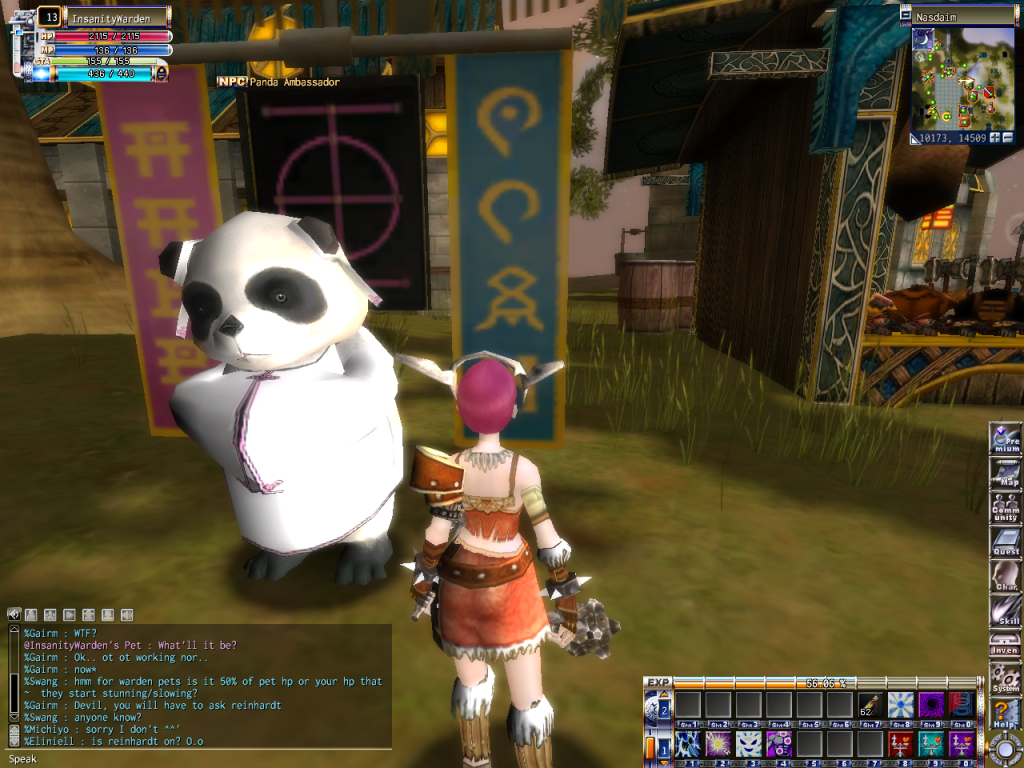 Cool fighting animations

Transportation from country to country, from city to city, including subways, zepplins, and steam balloons.

Awesomely fun skills

2 powerful starting buffs.

Things I Hate About Neo Steam

WASD movement problems




Clipping errors causing players to get stuck in objects (Guilty)




Talk Teleporting - When you talk to an NPC, you teleport to a fixed location in front of them so you are in the fixed camera shot. It's quite annoying



Jumping animations - What the hell Atlus. My character can do a flying backflip without running? Wow.


Coding errors causing garbled text.



Crafting system - Honestly Atlus, this is just ANNOYING. The fact that Machinists are about the only ones who can do anything really bothers me, even if this IS steampunk and that's what machinists do.

Skins - Atlus, PLEASE allow these. The current skin is terrible and if I had the the ability to skin it over I would.

Entire chat system - The symbols showing what kind of post it is, while each of them are COLOR CODED, is unnecessary. It's also unnecessary to have a permenant chat box that you have to press enter to type in, when it is so obvious it was set up to just click and type.

Ridiculous censoring system. You can say words such as "cl--o-is," but you can not say "pop open." WHAT?

Conclusion

This is a fun game with nice gameplay, fun skills, unique weapons and armor, and a great community. Even if you don't like steampunk or have never heard of it before, try this game. I have a feeling you'd like it. Also, if you are a graphics buff, this game will murder your eyes. Don't even bother installing it if you're not going to have any fun what-so-ever just because of your graphics. So, download and enjoy a great game!

Bookmark and share to your friends