Pandora Saga(MY) Close Beta Review

By: Alexiellous

posted at Jul 19, 2009 8:42 am
First of all, just to notify everyone, if you are interested to download this game, please download it from MMOSite download page as the main site files are corrupted, i tried all the links and it failed during installation.The close beta will end at 20 July 2009, 4pm GMT+8 and i managed to get in on the last day to join the Event Epic War which is today. I have lot of fun even though i have no idea what to do in the first place but slowly i followed our commander's instruction and get used to the battlefield sequences.

Here the event details:

This is the first ever Epic War where the three nations clashes. As a citizen of your nation, you must enroll yourself in the army. Your nation needs YOU!
Event Date: 19/07/2009
Event Time: 20:00 – 21:00 (GMT+8)
Rewards:
100,000 Pandora Gold and Random Level 3 Gemstone x 1
Event Guide:
GM will summon some NPC at Astir Neutral Central Plaza.
Kindly follow the steps below to make yourself ready for the Epic War :

Talk to

LvNPC

, select Level Up, then click on

Reached Lv40

to make your character level to become Lv40.
Talk to

LvNPC

, select

Receive Money

to get 100,000 Pandora Saga Gold
Talk to

LvNPC

, select

Receive change job item

Talk to

Job Transfer NPC

to advance to second job.
Talk to

LvNPC

, select

Receive Equipment

Talk to

State-Owned NPC

to join a nation.

Talk to NPC

War Admissioner

to register yourself as a Regular Soldier or Commander before 19:30 (GMT+8).
Note: Player who failed to register before 19:30 (GMT+8) will have to wait until the war start to register as

Volunteer Soldier

The EPIC WAR will begin at 20:00 (GMT+8).
Those who successfully chosen as Regular Soldier or Commander can enter the war map at 19:30 (GMT+8) :

Talk to

War Admissioner

, select The

Official Registry

.
Talk to

War Admissioner

again, select

Move towards to the battlefield

.

There will be a screen shots opening session for all players after the EPIC WAR. GM will make in-game announcement to gather the players at Astir Neutral Central Plaza to take screen shots.
Event Rules :
Any players who intend to interrupt the event will be force to log off and temporary ban.
Should the players have missed the event, event will proceed as scheduled, and no extended period will be awarded.
myRosso will not be responsible for any Internet disconnection, or latency issues caused by the Player's own ISP Internet connectivity. The event will proceed as scheduled, and no extended period will be awarded
Should there turn out any technical issues during the event, myRosso reserves the right to terminate/ change or/and amend any details of the event.
---
Creating character, mix and match, you can choose the type of looks and hairstyles you want for your specific designated race and classes.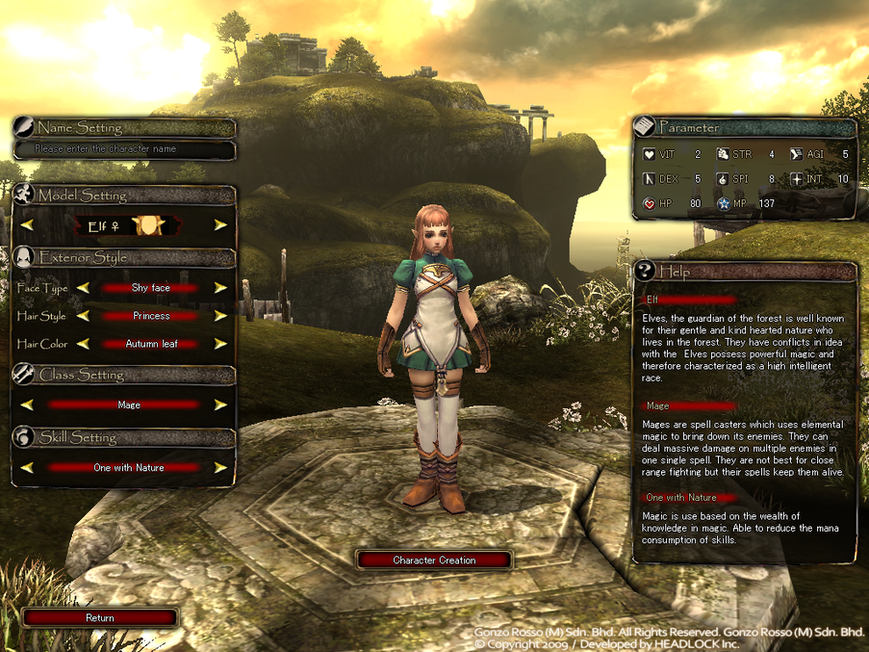 Here are screenshots of the town and surrounding which i have visited inside the game:

Love the water fountain!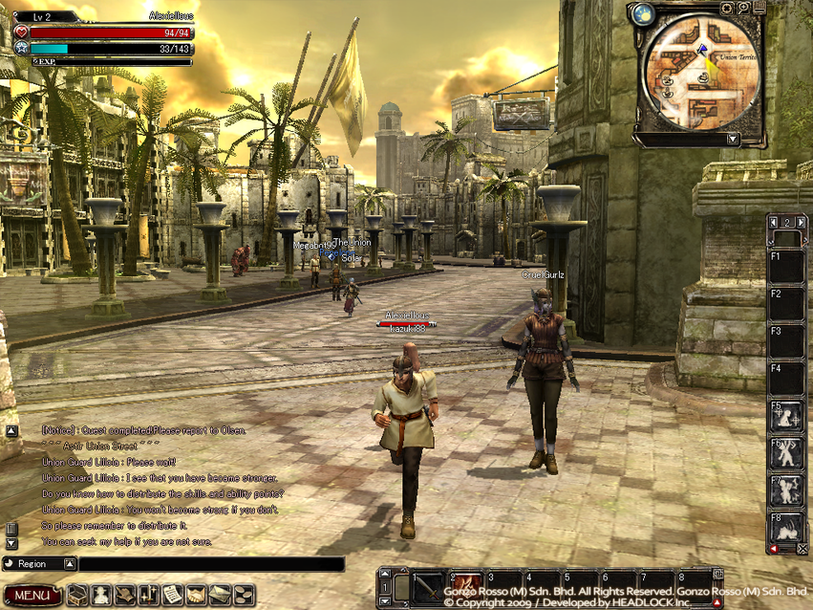 Look at the building, it looks so cool
Sunset or Sunrise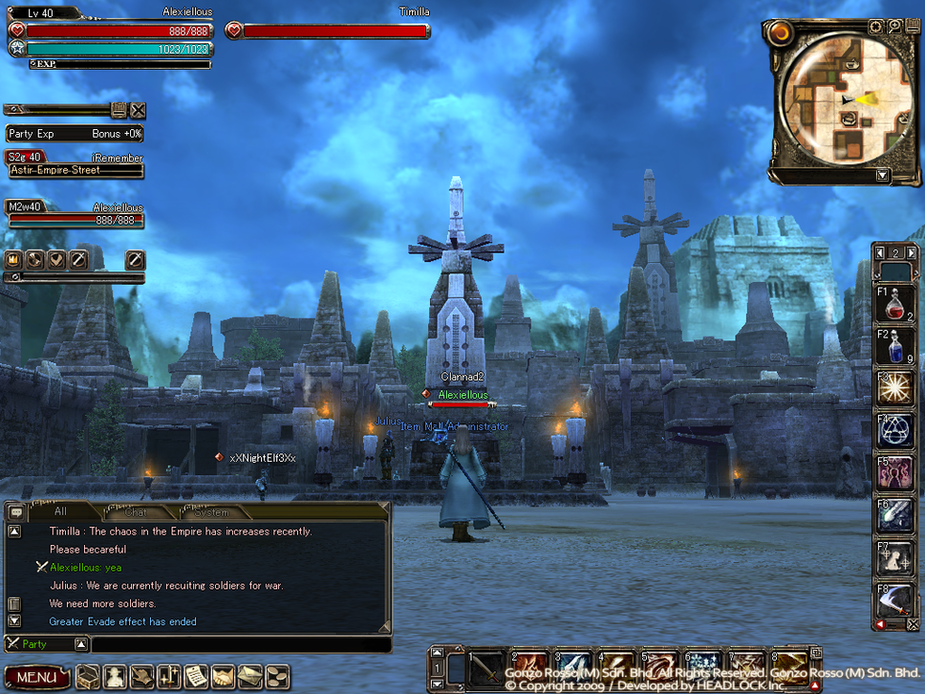 This the Empire nation base which i am in,it remind me of a historic site...
In term of graphics, i will give it to 8/10. This is because i love the scenary like the towns and the battlefield, it is sort of like in those kind of ancient era. Even if i set it to the lowest required of certain effect, it still looking good.I turned off the effect during the epic war because of the lag, so i think you will see the difference between them.
In term of gameplay, i give it to a 7/10. This is because i just got into the game, and i have no idea what to do in the first place. And when i am trying to find a specific NPC in the town, i have a tough time. One example will be the Warp Npc, i ran through the whole town and finally found him at where i am standing in the first place. He is just in front of me. It can be improved by at least defining that person as a Warp Keeper. And the quests' descriptions is not very detailed but i managed to completed them somehow while i went on my exploring.
In term of content and features, i give it a 9/10. I prefer RvR, Pvp types of games and this one have 3 nations fighting agaisnt each other. It is a pretty great game if you love RvR. Realm vs. Realm is always the best and fun.
My cute innocent elf
(oh well, because the customization of the elf have this eyes section and it wrote shy)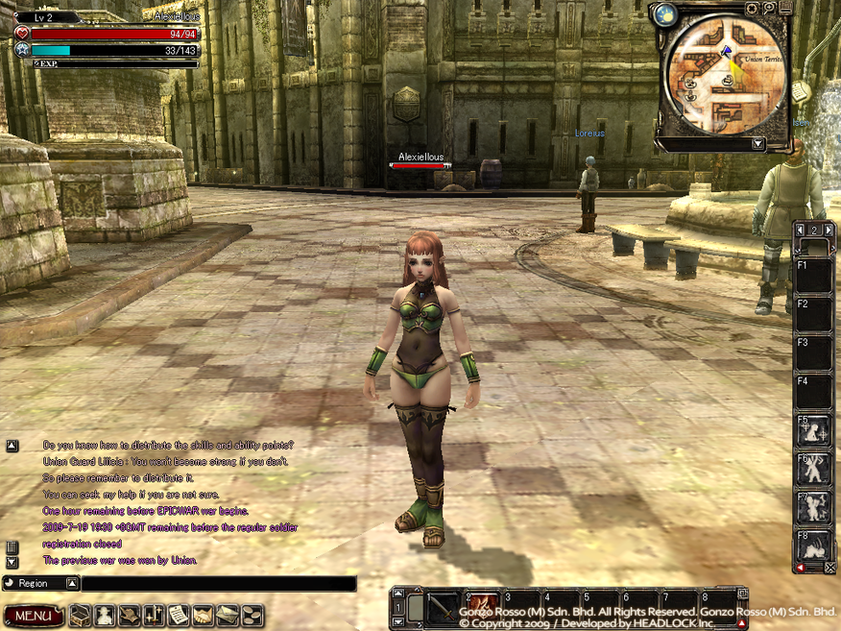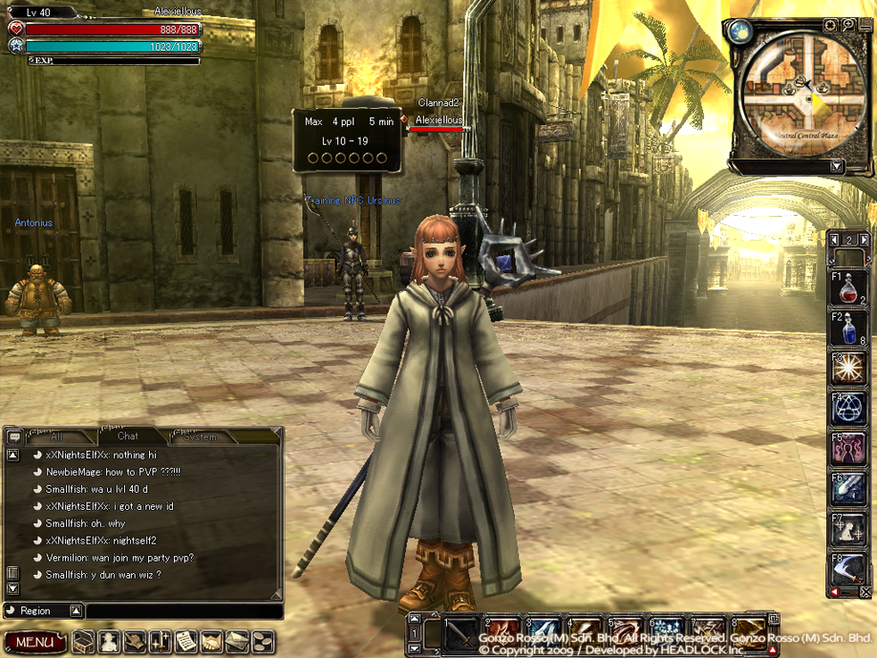 New armor and staff, sweet~<3
Event: Epic War
- The preparation and gathering of players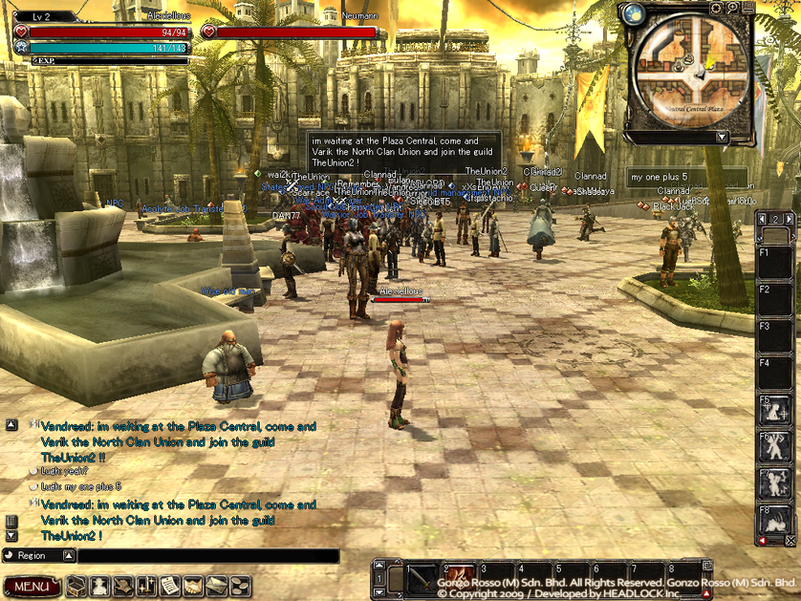 Mass of players...and wise old man what are you looking at?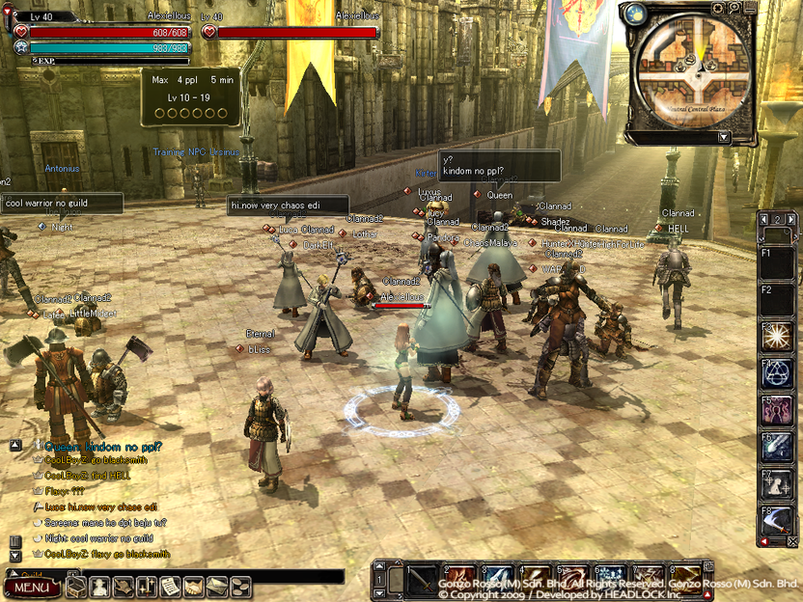 Omg she is so tall, don't bully me please.
- Inside the battlefield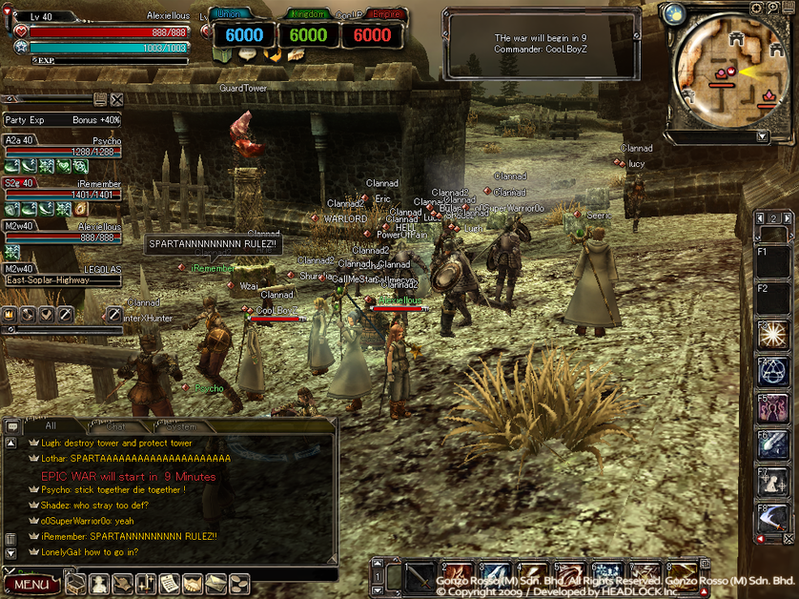 Let's buff it up, party party! Lol at SPARTAN RULEZ.
Die! Die Die tower! Let's kill it.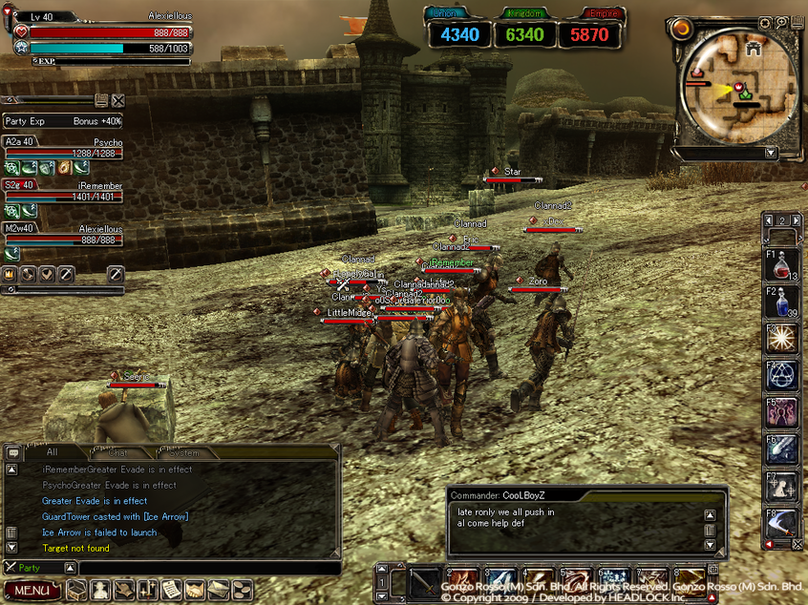 We move as a team, live as one and die as one, see the ss below.
The GM killed all of us. Not fair, but it is pretty challenging as the GM came to participate in the war too, look at the amount of dead bodies over there lol. Empire is winning!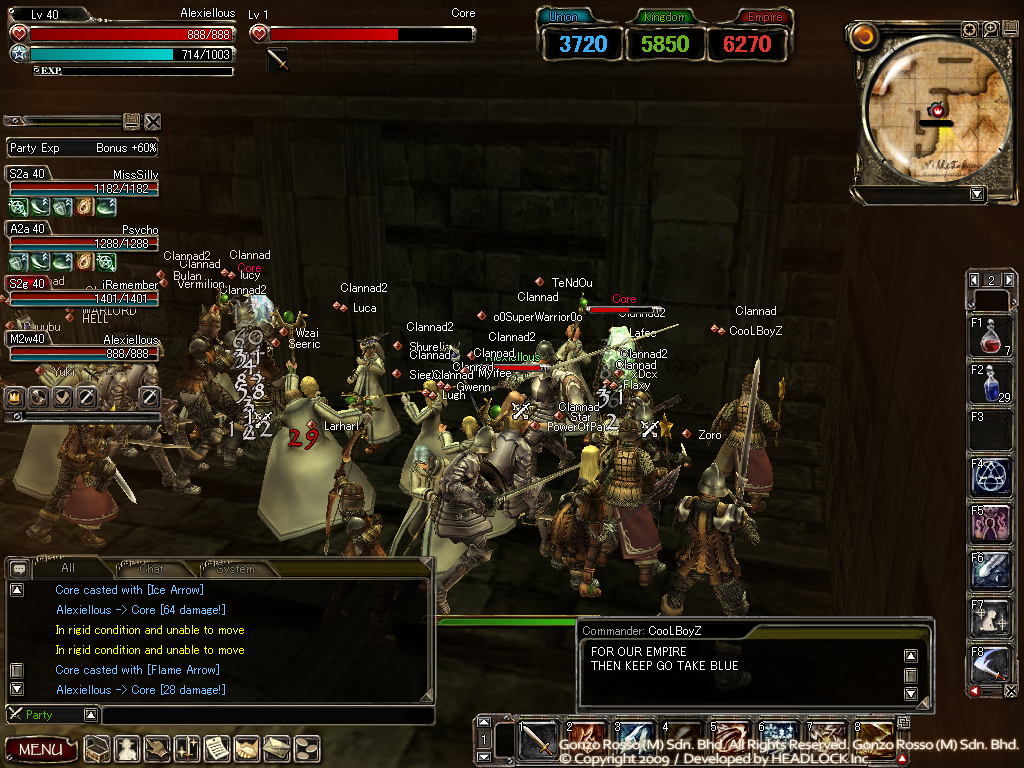 Destroy the cores and live for our glory!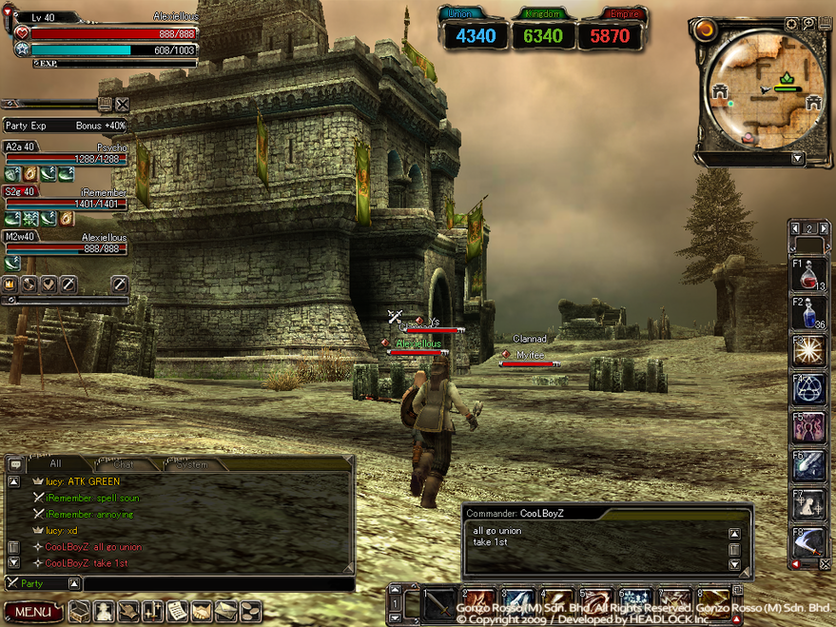 Let's go defend our towers!
After much battle and defending, our nation Empire finally win! It is all thank to the players of Empire nation, and my damage really cmi during the battlefield as i am still wearing my level 18 equipments.But it all went successfully of our victory.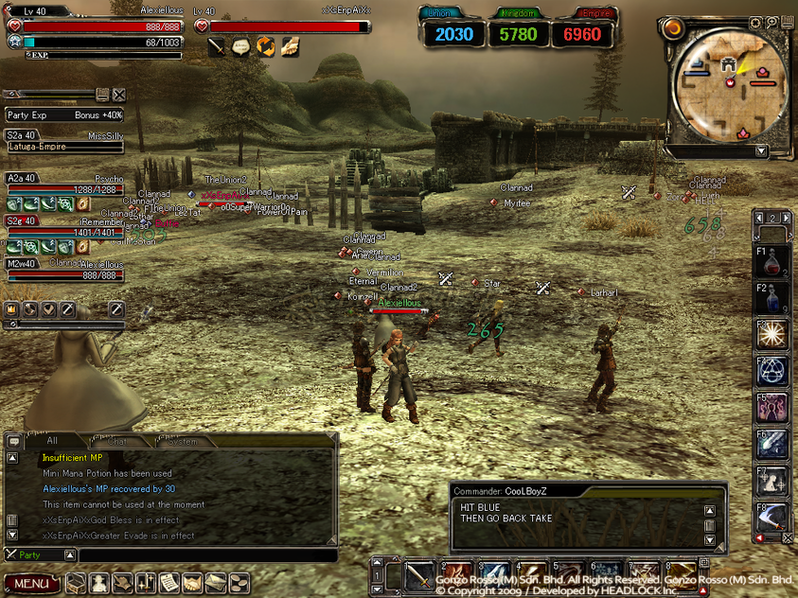 Screenshots Session with GMs and Fellow players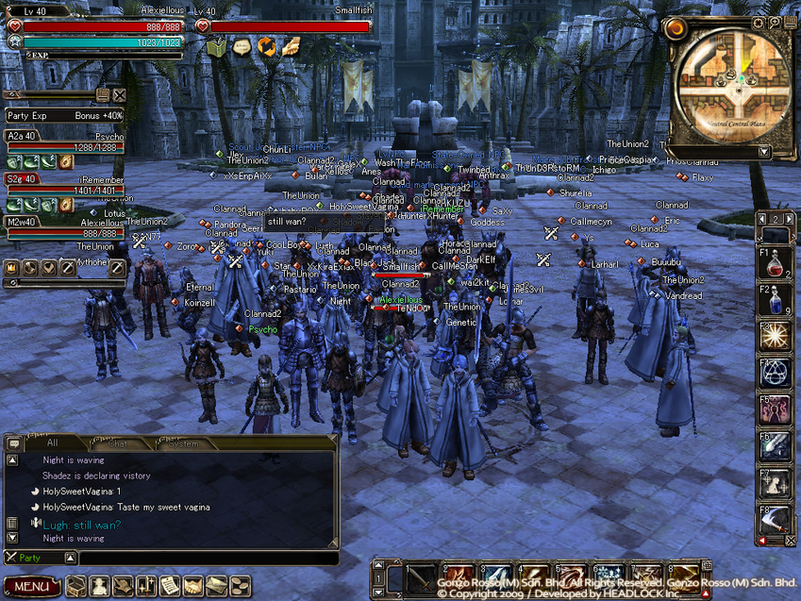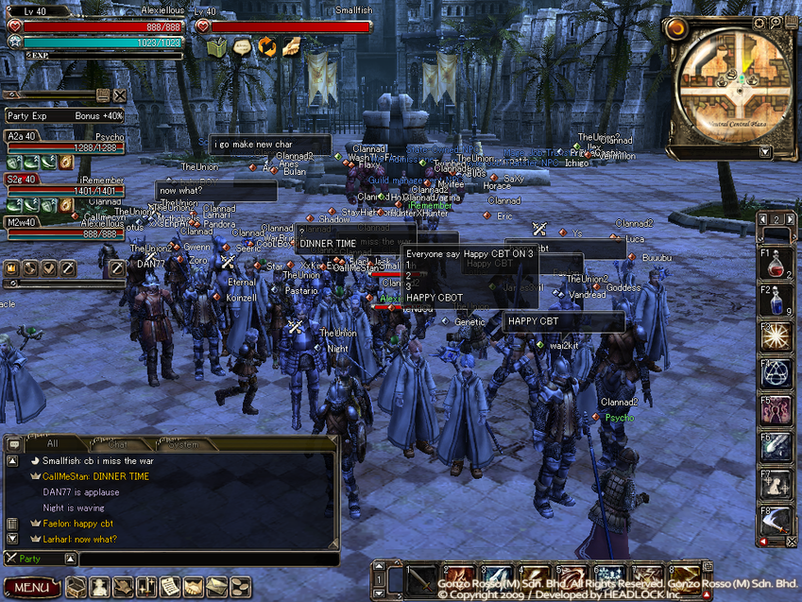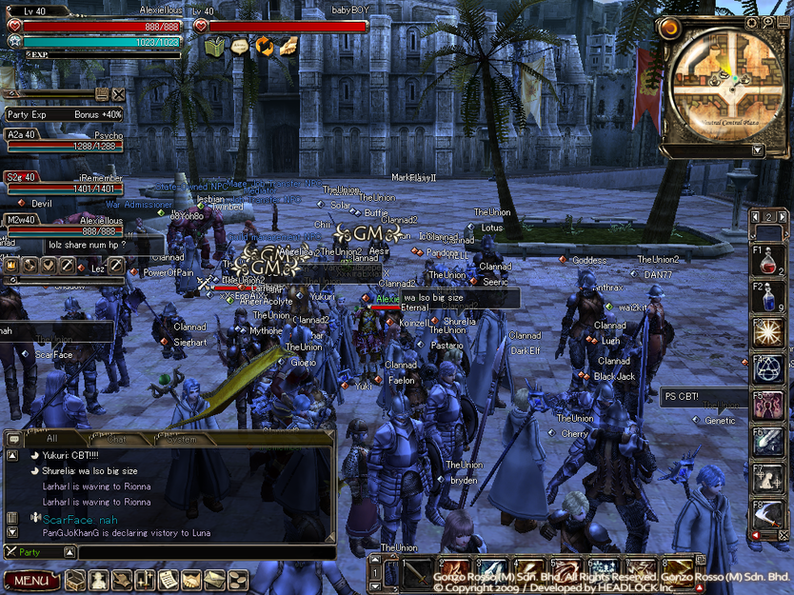 Say cheese everyone!
Killing monsters
Since i am making a Wizard, here is the screeenshots to some of the skills of a Wizard.
These are single target.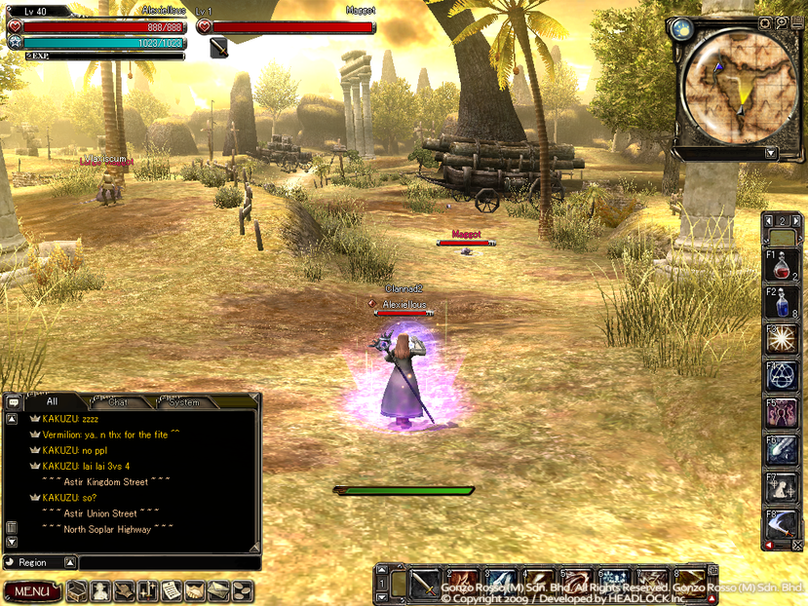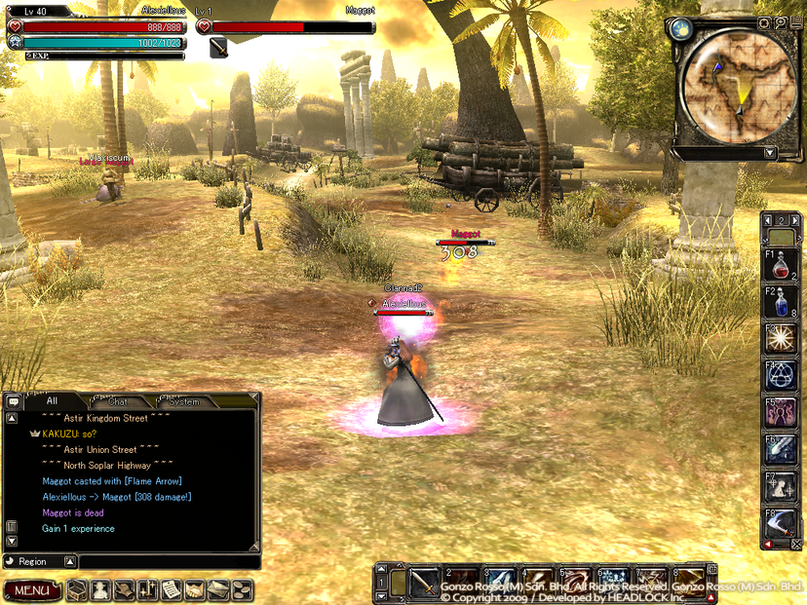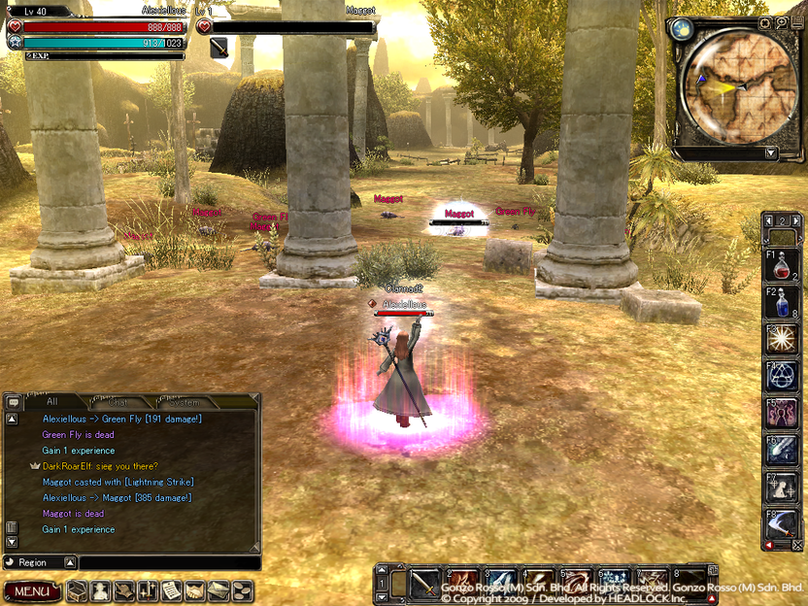 Look at the range!
A few AOE skills displayed by Wizard, they are really cool and have long range magic attacks:
These are the three AOE skills i have at the moment.
Lightning Bolt...BOOM!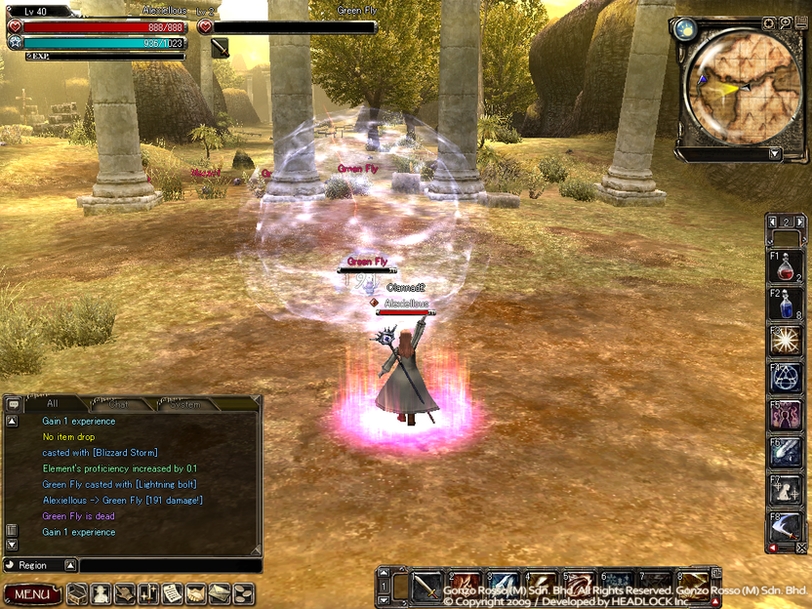 Blizzard Storm, freeze you to death hoho...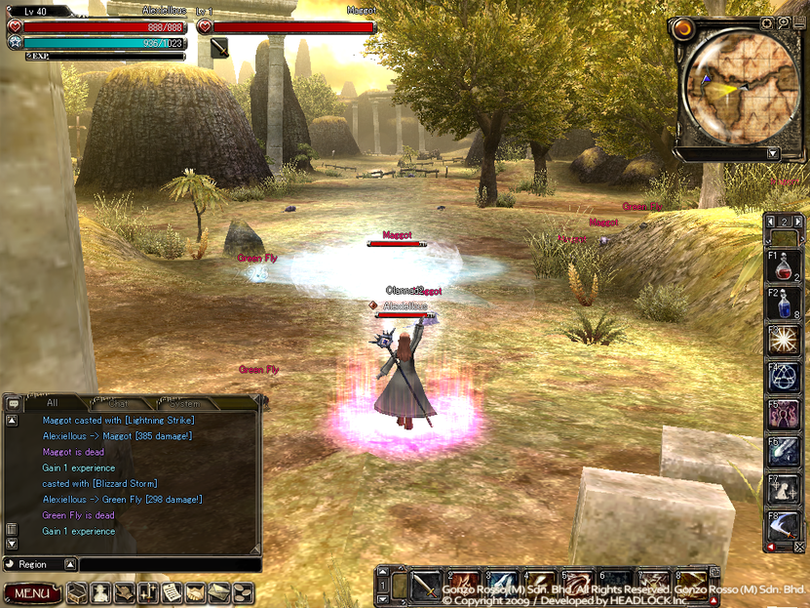 Fire Storm, the Ulimate Fire of Hell is here!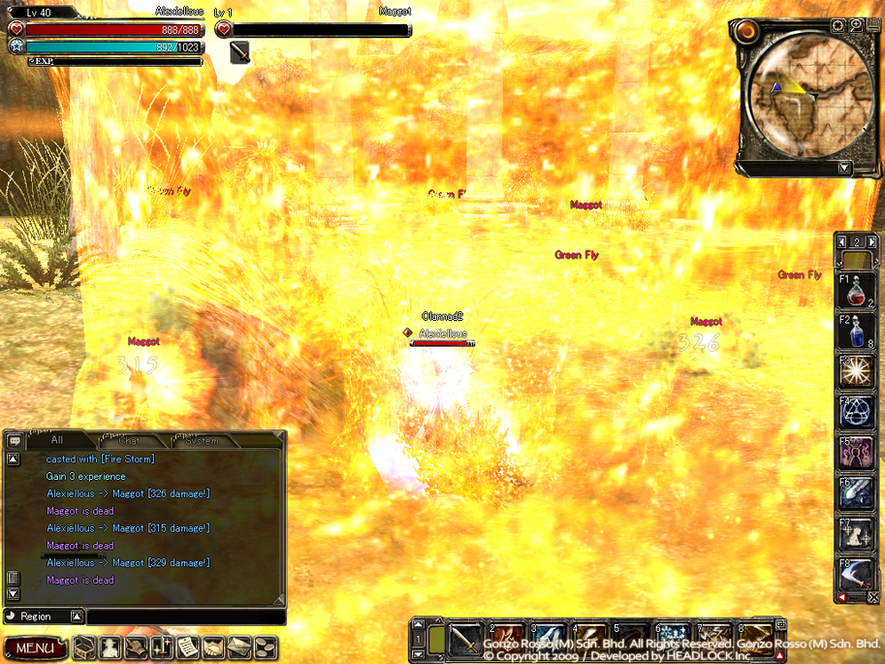 That's all i have explored today, it have been very fun and i am looking forward for Open Beta which will be a week away from now, if you are interested in playing Pandora Saga, come join in! It will be a fun RvR experience.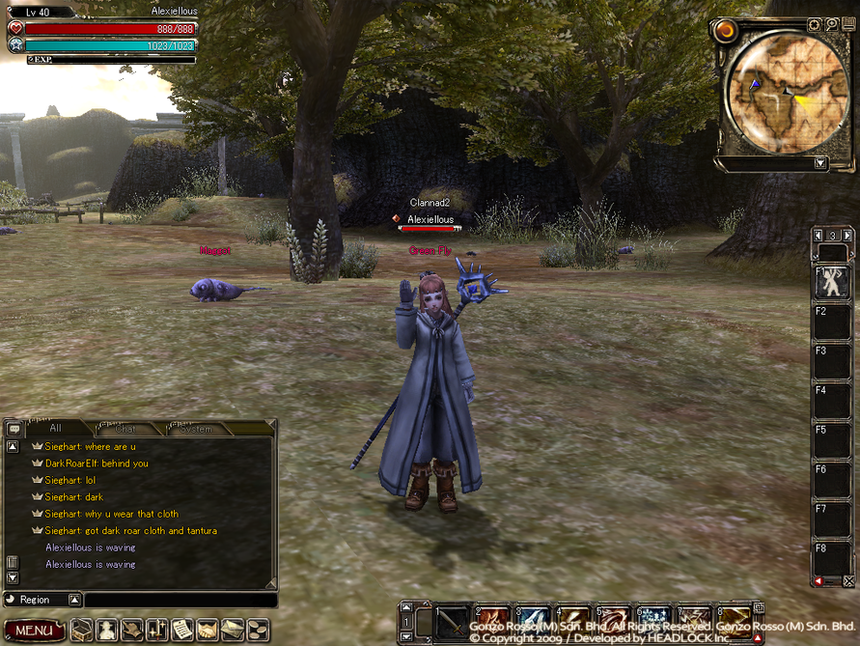 Alexiellous waved good bye and awaited for Open Beta to come, meanwhile i will do some research on this game, still lacking a lot of knowledges and sense of direction.
Bookmark and share to your friends