Recommended
SAGA - Game Review

By: Neramaar

posted at May 09, 2008 12:33 am

"Patience is a virtue."
When the first thing I saw upon logging into SAGA was my Town Hall and Barracks, I knew that I was going to enjoy this game. As a lover of the RTS scene since I first inserted Starcraft into my N64, once thing that I'm always relieved to see when I start playing a new one is that they've stuck with the familiar base layout that I've come to know and love. But after a short tutorial and some practice quests I quickly realised that SAGA wasn't your run-of-the-mill RTS, it was much, much more.
After logging in I was first asked to create my Nation. In SAGA, your nation is equivalent to the 'class' that you'll be playing the game with. Similar to games like World of Warcraft, the nation that you select has a pre-designated faction. Selecting the nation of Light, Nature or Machines (Humans, Elves, Dwarfs and Giants) will have you as a member of The Order, the 'good guys'. Whereas if you selected Magic or War (Dark Elves and Orcs), you would find yourself in The Brotherhood, the 'baddies'. For me, it was Nature, and after selecting my banner style and base layout, I was ready to play.
I have to admit that I wasn't overly impressed with the Tutorial system. It's completely voiced and very well presented, but it drops off at certain points, leaving you slightly confused for a while, and doesn't really cover much more that battle. Beginning with a vague overview of your Town Hall and Barracks, it's ends after a few simple 'kill all enemies' quests. After completing the 3 Tutorial Quests you do have a decent understanding of how to kill, capture and navigate the quest maps, but as soon as you return to your base it all comes to a very abrupt halt, leaving you with a "What should I do now?" feeling.
Fortunately, the help system in SAGA is quite frankly the best that I've ever seen. There is a large chat box at the bottom of your screen dedicated solely to helping you with anything and everything, and is (From what I could see) constantly manned by Game Masters ready to answer your queries. Using this 'Help Chat' in conjunction with General Chat, it didn't take me very long to find out what SAGA was really all about.
The Tutorial Quests do give you a solid understanding on how the battle system works, and it is naturally very similar to most other RTS games. They follow the standard point and click system, left-clicking to select and group and right-clicking to have them move or attack. The unit system is both familiar and unique all at once. Units are selected as small groups, in which the size can be pre-determined by you in your barracks before you enter a Quest, this is not really an uncommon feature amongst RTS games. No, the innovation is shown with the "Card System" that has been implemented. A group of units, before it has been selected and entered into the map, is represented by a card. New cards can be obtained in one of 3 ways, Purchasing them for 1000 gold per unit, trading on the Market with other players, or buying 'Booster Packs' from the games website for US $3 (In certain places around the world, Booster Packs can actually be purchased in store, with a much larger selection and actual cards with codes on the back used to receive the in game equivalent). Booster packs come with 10 random cards, and always include some form of rare card. Although Booster Packs are completely optional, it seems that buying a few later down the track will be necessary to really enjoy the game. So within this monster MMORTS game, there is an MMOTCG (Trading Card Game) embedded too.
One thing I personally enjoyed was the superb use of stances (or formations), such as the attack stance that will reduce your defence, but significantly increase the amount of damage dealt by the unit. Proper use of formations is a quick leap to success.
They also explained some of the game mechanics like unit management too. Units are managed using CP (Command Points), and although a little confusing at first was simple enough to get the hang of quickly. Each unit card you have requires a certain amount of CP to be used, and you have a maximum amount of CP that you can have on the field at any one time. This seems to increase as you complete quests and progress through the game. Although this system works fine, it seems to grow slowly, meaning that the first few days of playing SAGA are going to be very slow, and you wont be seeing larger scale battles, city sieges or wars for a fairly long time.
So what sets SAGA apart from the rest? Firstly, it's a persistent world MMORTS. Unlike other MMO's, where logging out causes your character to disappear from the game world, logging out in SAGA is not so. You base will still exist even when your logged out, adding an massive tactical effect to the game. Fortifying your defences so that you are not attacked whilst you are offline is paramount to your success. Building and resource gathering in SAGA is a very slow process, but as mentioned above, this all continues even when your logged out of the game, allowing you make preparations for the day ahead, even though you'll be at work or school.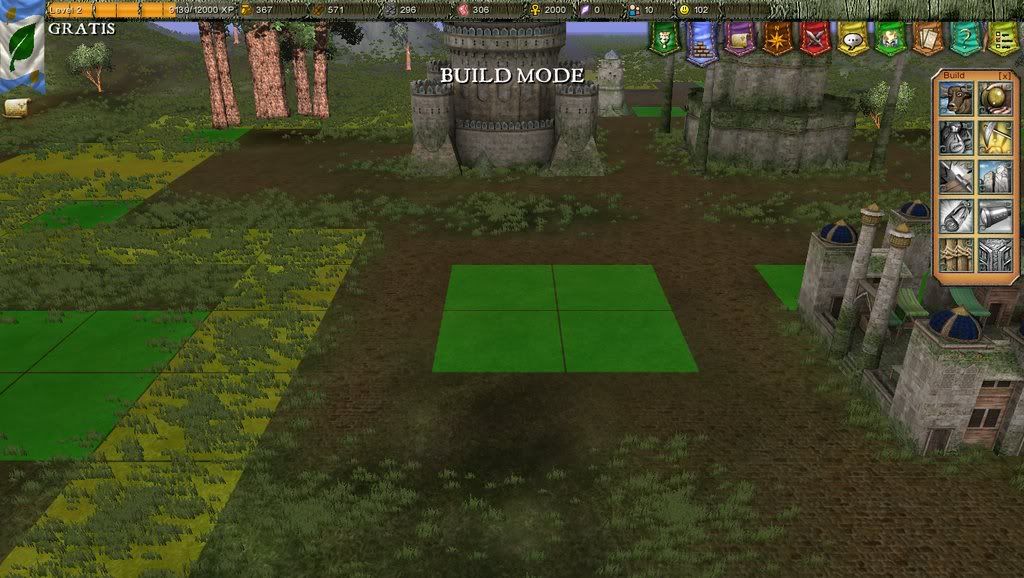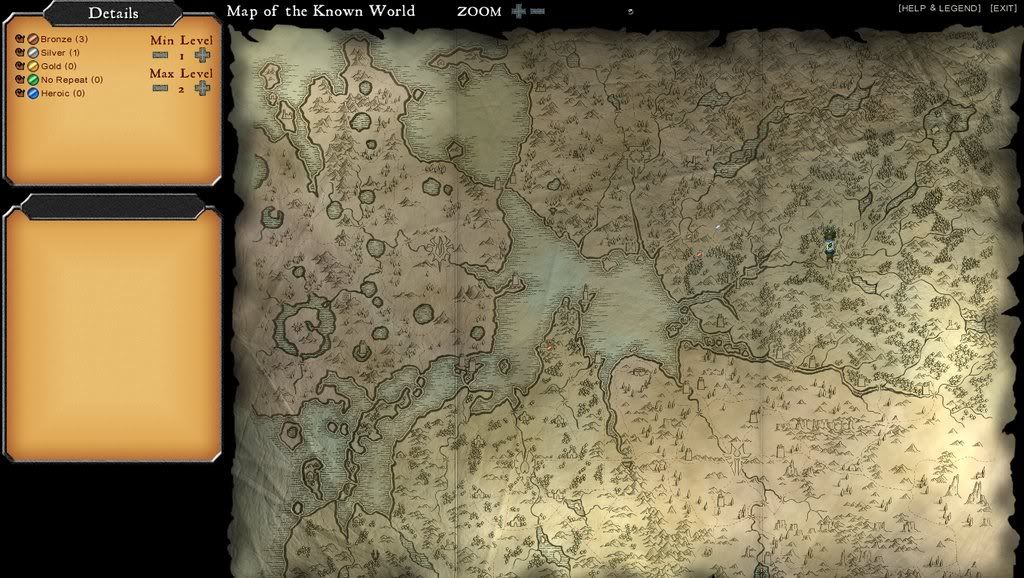 The Quest Map was another feature in SAGA that I was immediately impressed with. The map not only looks fantastic, but it it completely interactive and displays all your current quests. Quests are represented by several small multi-coloured coins scattered about the map, each showing the name of the quest, a small description, and the recommended level. Simply select a quest on the map, accept it and you will be entered into a small "Quest Instance" to complete it.
On top, all quests are repeatable, that's where the colour system come in. Bronze quests are quests that have not yet been completed. They will generally tend to be around your level. A silver quest will be 5 levels higher that the original quest level, and offer more EXP and Loot. Gold are 10 levels higher, and platinum 15. With an abundant amount of quests already available, and new quests added weekly, this part of the game alone offers a solid singer player RTS experience (totally free!) and to put a little icing on the proverbial cake, you can bring a friend along for any of the quests too, providing a much more entertaining experience and extra help whenever you need it, just be prepared to share your loot.
Although you'll be spending the vast majority of your first few days playing SAGA inside the Quest Instances, outside in the 'real world' is where the real fun is to be had. Setting up your base, managing your resources and townspeople is a long but very rewarding experience. Although it takes a while to get the ball rolling, in only a few days you'll start to have your little base looking much more like a large city, and you'll be looking to expand your nation and build new ones. In your town you'll find things like the Pigeon Roost, used to send in-game 'emails' to other players, the Market (Only available to paying customers) used to trade cards, resources and items with other players, Farms, Storehouses, Gold Mines, Lumber Mills and everything else you'd expect to find in a good RTS game.
PvP is where the real innovation of SAGA comes into play. In total, there are four modes of PvP. They are:
Battle
- Battles are small 2-4 player games involving standard RTS style skirmishes. Simply destroy the enemies base, or all of their troops, to knock them out of the game. There are 3
different options involved in Battles, Scrimmage is a battle purely for fun, with no penalties or gains. Normal allows you to lose troops and gain experience, and Hardcore allows the pillaging and destruction of buildings, have severe repercussions for the loser, but massive gains for the winner. *Note* When I was asking in help for some more information on PvP Battles, a GM not only gave me all the information required, but created a game for the both of us, so that he could show me in action. I've already mentioned that the help system in this game is second to none, but this was truly amazing.
Espionage
- Espionage involves sending some of your troops to another players Nation, and performing tasks such as spying, burning their food supply, stealing their resources and the like. It costs gold, and has a chance of success that can be increased by learning at the university.  Espionage is particularly useful before you raid a players Nation, to give that loudmouth idiot in general chat some payback, or to really annoy your friends, and can be prevented by assigning peasants in your town as police.
Raid
- Raiding another players nation first requires opening a portal to their nation for your units to enter through, and is done so by collecting Mana shards. Once the portal is open you send units through, and begin your pillaging, allowing you to gain loot and resources a plenty.
The more Mana Shards you have, the longer you can hold the portal open, and the longer you can raid.
Guild Wars
- Guild Wars, as the name suggests, is activated when one guild declares war against another, and the other accepts. They use a point based system involving all the other three forms of PvP, with each type awarding a certain amount of points. The first guild to accumulate 250 points is declared the winner, and receives rewards based on the economy of the opposing guild. An example of the points system - A battle with an opposing guild member is awarded with points based on how many CP (units) are used in the battle. 1 point for smaller battles and up two 7 points for large scale battles. Things like burning an enemies food supply using Espionage awards your guild 1 point, and you'll receive 1 point for every three minutes spent raiding an opposing guild members nation. One word? Kickass.
Yes, PvP in SAGA is amazing. It is everything I've ever wanted in an RTS and more. And if all that wasn't enough, there is news of Tournaments and World Conflict on the horizon. I wasn't able to obtain any hard information on wither, but let your imagination run wild, because SAGA don't seem to be planning to disappoint.
By now you must be thinking "This game sounds bloody perfect?! It can't be all good can it?" As much as I wish I could say yes, I really can't. SAGA does have some fairly irritating flaws, one of which is the Graphics Engine. It's dated, and at many points in the game it really shows. Now for myself, that's not necessarily a bad thing, I can look past dated graphics without blinking an eye, because naturally the game is going to run a whole lot better on my sorry excuse for a PC, and they make up for it with richer environments.
Unfortunately with SAGA, this is not the case. The quests started to get rather choppy in a few mediocre battles, and even though I haven't really had the proper opportunity to experience a large scale war with 4 players and gigantic armies, I can only assume that it's going to get worse. The environments are bland for the most part, with a few trees and some repetitive folage being the only real standout features. All that combined with a dated interface gave me a very underwhelmed feeling whist roaming the lands of SAGA, and ultimately took a lot of potential away from the game. That being said, for a dated engine the models are superb (aside from some shocking animations) and everything fits together very nicely, it doesn't take very long to look past the graphics and into what a truly magnificent game SAGA really is.
The Sound portion of the game is a perfect seesaw. While on one end the music is terrific, an immersing soundtrack follows you around the more relaxing parts of the game and is backed up by epic battle music during the many quests. On the other end of our music seesaw we have the games sound effects. Which, in lack of a more degrading word are horrible. They are bland, repetitive, annoying and turning them down means turning down some of the more enjoyable sounds like ambiance and voice overs. More specific options would be a quick and easy fix for this, and are hopefully on their way.
In summary, SAGA really is a terrific game. It's both familiar and fresh, fun and challenging, and it's innovative in all the right ways. It's important to note that the above scores are from the perspective of an avid RTS fan, and are intended for the same audience. If you'd played Warcraft, Starcraft, Total War, Age of Empires, Civilization or any other RTS that grace the shelves and web pages of our world, then this game is definitely worth your time. And best of all, it's free, with the option to upgrade at a later time if you so choose, and there are absolutely no subscription fees.

The only limitations of a free account are interaction with other players above the level of speaking. PvP, Market Trading and Guilds are not available in the free version.


Novices to the RTS genre have something special to gain here too, because as complicated as some of the above information may at first glance seem, it really isn't. The downfall to this is that at later points in the game, a seasoned RTS fan is going to realise that this is really a novices game, and although there is plenty of strategy and tactics to be had much later into the game, it's going to require a massive amount of time, and booster packs to achieve. The richer man will no doubt win the war that is SAGA, for no amount of strategy and tactics is going to overcome a perfectly built nation armed with pricey defenses. But for those of us that enjoy a good challenge in our games, this one is set to break some records. I know your out there, I've met plenty of you before, and I'm sure to meet plenty more of you inside the lustrous planes of SAGA.



Keep a whether eye on the horizon for the nation that is Gratis, friend or foe, I'm very much looking forward to meeting you.


Final Words - For those of you who actually managed to read this short novel, know that I have chosen to remove large amounts of it, including information on Guilds, the Story, and more in-depth explanations of certain features. This is a mammoth of a game, it really is, and I have done everything I can to remove any information that wasn't crucial to the review, without spoiling it. In future, any review of this size will be separated into smaller chunks to allow easier reading.

~Nera


Bookmark and share to your friends