Fighting alone can easily be entertaining as there is victory for yourself, no one to worry about, and best of all no rules to follow. Being a lone wolf ingames where you are fighting for yourself in victory never felt so satisfying. Everything was made for you, and there is only your rules in game. But how about we change all that? Instead of fighting for yourself, you can fight with teammates that share a common goal. The big worry should only be about getting the victory, while your team saves you the worry about your own back. Are there rules to follow? If you can show that you are worth the lead, then you will be making the rules that other players will follow. Be prepared for a Clan Unity session soon because once every clan recruits and train for the competition in 2013, you might be left behind watching your own back. Having a team ready to go that is skilled, smart, and ready to bring the heat will enhance the gameplay experience to a whole new level. There will be a great feeling of unison when you guys win together because you will share laughter, hardship and best of all victory. You can brag to yourself all day if you want, but actually having a team to brag to, and who experienced the event just makes it more satisfying. So get ready to join a clan, but remember join a clan because they want you personally, not because they need members.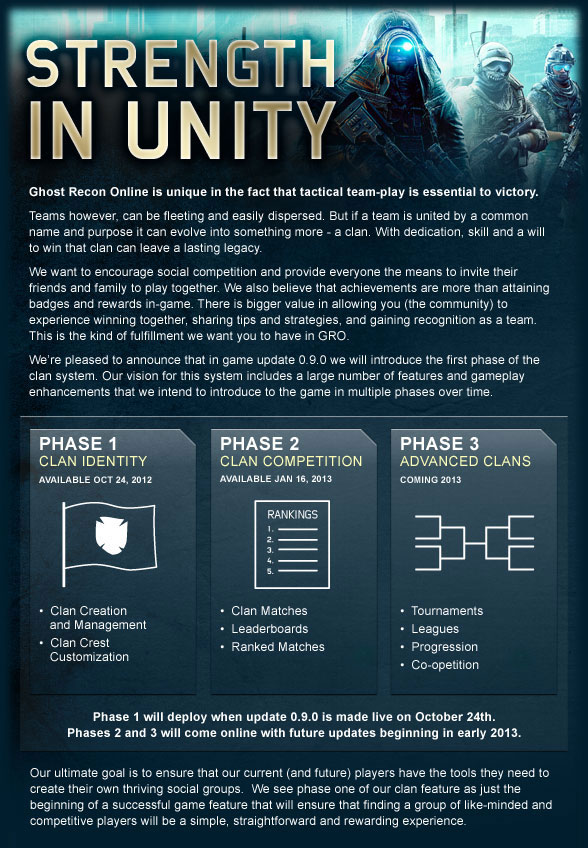 Just a quick re-cap in what Ghost Recon Online has to offer via clan system. As of right now, clans can be made, managed and even customized with an emblem. With the basics down such as creating and promoting and demoting players from Commander (leader), Officer, and soldier and clan battle statistics, it will be a great show when 2013 comes along. Ghost Recon online is even encouraging players to bring friends, family and anyone you want to enhance the experience. What better way to play then to play with friends on and off the computer? With clans now preparing for competitions, it is no wonder why the forums is filled with players trying to recruit. Full news on the clan update and various updates that came with 9.0 update can be clicked here.
What is so special about 2013? Announced on January 16, of 2013 there will be clan matches, leader boards and ranked matches. This will be a great indicator to see who has the skills to rise to the top, and who is all bark and no bite. Although hopefully we will have the option to choose who we want to clan war against rather than always having to wait for randomly selected teams. This will be a great option to play against but there should be a certain number of games a clan should play before having this option open (due to players abusing this option). By having ranked matches it will be a good way to battle against players who have an equal skillset an/or level ranking. After is all said and done, the leader boards will hopefully show who is the most dominate in the clan server. When 2013 rolls around the corner, be prepared to bring the heat in the clan competition because the other team will and could be quite literally.
Aside from the clan competition, there will be tournaments, leagues, progression and co-opetition that will also be coming into 2013! What a great way to show how you really are by playing in a League or Tournament. With tournaments coming up, this should be a great opportunity for clans to show off what they have been training so hard for. Also, if you have the opportunity to win, then that means free weapons, cash, or items for your character. If your really good here is a chance to show how good you are by joining the league and take on challenges from the most famous, recognized and skilled players that the game has to offer. By just playing with your clan, hopefully you can see the clan progress through the various stages since the beginning. But Co-opetition has to be a pretty exiting feature that is coming up for both competitive and for fun gamers alike. I am hoping for something like a mission mode where a clan has to progress through a story line and complete it to earn rewards. But since no news came out about it yet, I can only hope that there will be a mode that will truly unite us as a clan even further. Be sure to tune in for more information on the GRO website, because it will be an exiting year for 2013!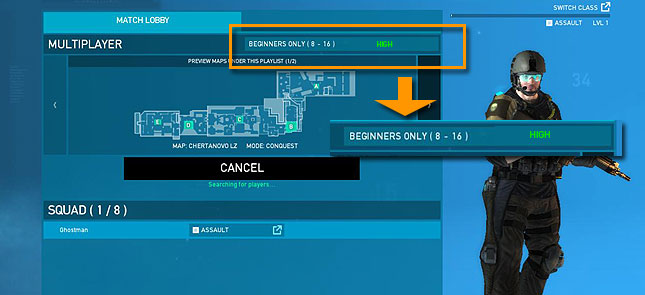 So are you a new player? There is a new matchmaking system in Ghost Recon where players level 1-5 can be paired up to battle it out. This is a great option for new players because if you are getting use to the game with the controls, mechanics and guns, you are battling players who are also having the same issue. No more will you have to fight against high levels who will just trample over you with his armor, weapons, and knowledge. Although many players have already went through the deep unforgiving battleground head on, here is your chance to be better prepared. But remember use this time wisely to get to know the game, because once you leave this sand box, you will be out in the real battlefield.
Bookmark and share to your friends