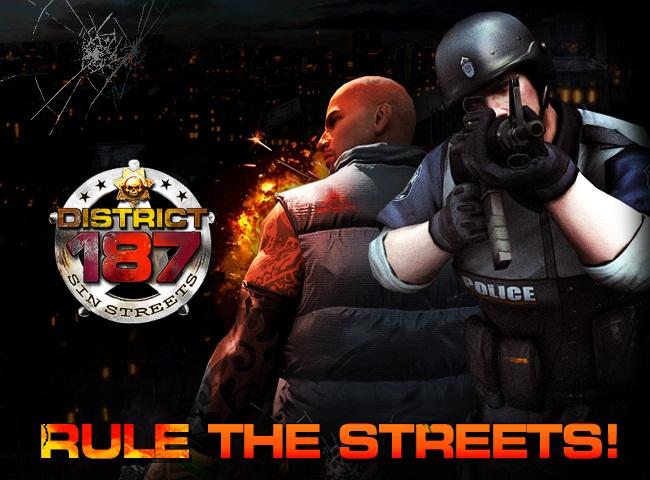 This is a great time to be talking about the newly released Open Beta Game, District 187. With advertising every where on the MMO site, there is no chance to miss it. I have checked many videos, reviews and screen shots as well as developers videos. I will summarize what I have read and give what I find is important to know about the game before playing. I will also be writing about what I truly think about district 187 ideas and concepts regarding the game. There wont be much talk about its core gameplay, as I will post another blog about how it feels to actually play the game. Although there is a lot of players complaining about the "clunky" controls of the game, I want to test it for myself soon. This blog will contain what I really think of the game, and what really caught my attention towards it.
By even looking at the game itself, many players have already gave the game of a common name of Cops and Robbers. As the world begin to collapse, a revolution takes over as gangs pit themselves for control of the streets. As the gangsters take over the streets, the Cops try to restore order as both sides battle it out for control. Whether your a gangster or a cop, you will be killing someone. Honestly, Gangsters and Cops couldn't have been a greater choice because these two groups always fought eachother in the media, movies, games and even in the real world today. This is a great concept in my opinion because both sides are fighting for two very opposite reasons. One wants to create chaos and the other one wants to restore peace. This kind of idea spark my interest in the gaming world when APB was first released on the disc. Little that we know the game servers shut down and was re-opened again to be free to play. APB gameplay was lacking but the idea was there as like in this game, players can choose to be a tough street gangster or a strong law-enforcer SWAT. Overall one of my favourite choices for game ideas rather than terrorist vs UN.
Shop
The shop was one of the more interesting things that I have seen in the MMOFPS world. By giving the player many opportunities to pick and choose how they want to look by changing clothes and wearing hats and mask, ultimately makes a player feel more unique ingame. But as of right now, there seems to be only limited customization regarding the characters clothes and style. Hopefully in the near future more updates will contain more clothing that can be purchased.
But my real complaint is when I buy the guns. Do you know what AVA, Cross Fire, Ghost Recon and Arctic Warfare have in common regarding the shop? PERMANENT GUNS. I know it may be more expensive to earn a permanent gun, but having a gun stay in my inventory rather than disappear in let's say a day is much more better for me. There is bragging rights that is associated with the number of guns that you have and the number of guns that you are very skilled with in your inventory. A bit disappointing, but who knows, if this becomes a big issue perhaps there will be a permanent function like in MicroVolts where both timed and perm weapons can be bought. (This also goes for the clothing too.)
Weapons
For the weapons it has a good variety of Primary Assaults, SMG, Sniper and Shotguns as there is around 2~4 weapons in each category. But currently there is only two pistols that I can see, a high recoil desert eagle and the standard G19. Unlike most games, there is a lot more melee weapons during its open beta released as there are 4 melee weapons including an ax. Interesting though as some weapons names have been modified to fit the description. For example, the SVD tiger. Although I prefer original names and weapons, having an modified one could bring a new feeling when using these type of weapons. Overall, there is no massive amount of weapons, but the weapons are there and available to be used.
Maps
The maps are a bit interesting in my opinion, taking place in a Urban Settings while fighting on the streets, markets and buildings to achieve victory. Although I have read many posts and opinions about the map design, I say having a close range CQC map is pretty exiting as there will be action all around. Even if players start to become more passive, the aggressive players will bring the action in there house. Currently there are a lot of Closed Quarters maps as players are complaining about just waltzing so easily into the enemies base. I like the idea of urban houses and markets but hopefully there will be a bank map where the swats are outside and the gangsters are inside just like in CS Maison_.
But here goes one of the main reasons why I really want to play this game. The clan war battle. This alone is really interesting in my opinion because clans will have to battle it out for territory, rewards and respect. This is one of my favourite features to get recognize in the game. Having a great organize clan, a strong team and a lot of skilled members can help gain over massive territories in a short run. Although I hope the feature would be like a map showing the various clans taking over territories and clan rivalries. Nothing interests me more in a game to have a chance to show off and gain respect and recognition for playing the game. Becoming the dominate clan will not only bring respect and rewards, but will bring even tougher enemies to the streets. Hopefully the feature and function will be in good working order because I will be expected to play soon. Overall, everything looks great and the ideas are there. But I have heard a lot of complaints regarding the gameplay itself. I know a game like Tactical Intervention had the ideas, but couldn't deliver it in a manner where it was fluent. So let's fight to gain our rightful territory and oh yah, what side are you on?
Bookmark and share to your friends