Join AIKA as they Celebrate Lunar New Year with a Bang
Category: Free MMORPG
Game: AIKA Online
Posted on Jan 26, 2017 10:42 pm
541Views
0Comments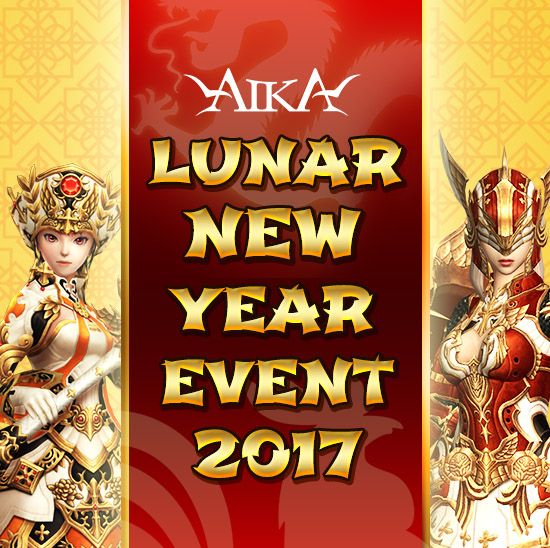 Happy Lunar New Year! Aika welcomes the year of the rooster with a blast! Have a chance to receive different kinds of prizes as easy as 1..2..3!
Event mechanics:
- Log in the game this weekend (January 28 - January 29)
- Players who logged in will automatically received items in their inventory (Same as Aika Talent)
Event Items will be given randomly:
Pran RPS
Caelium Extract Box [3 Day]
Integrity Mark [1 Day]
Amnesia
Memory Posion
Experience Scroll [1 Hour]
Rooster Bonus!
A special reward (Lucky Package) will be given to all players who logged on before our Rumble Arena!
[Lunar New Year event 2017 - Part 2]


And the celebration continues!
As you can see here, we have prepared 6 more mystery prizes for you all!

BUT each player can only receive 1 of the 6 mystery items.

To join, comment on Facebook with the following:

In-game name:
Nation:
Red Packet Number: (select from 1-6)


You have until 23:59 (EST) on January 30 to participate!
We'll be revealing the prizes next week, in our forums

[Added note: All posts will be recorded by the end of the event; any edit/changes in your posts afterwards will not be considered.]

If you haven't yet experience the game it's not yet too late. You can download the client here.
T3FUN: Visit Our Ever Growing Community
Aika Online Webpage: Register Now!
Fanpage: Like us on Facebook
Youtube Channel: Watch our Video
Twitter: Tweet us here
Forum: Join our Community
Bookmark and share to your friends