Last weekend was Tera's first closed beta to the public (people that pre-ordered, IGN prime members, or lucky few) and I spent about 30+ hours playing a Lancer to level 22 and a Mystic to level 10. So here's just some of my personal experiences I had playing Tera last week.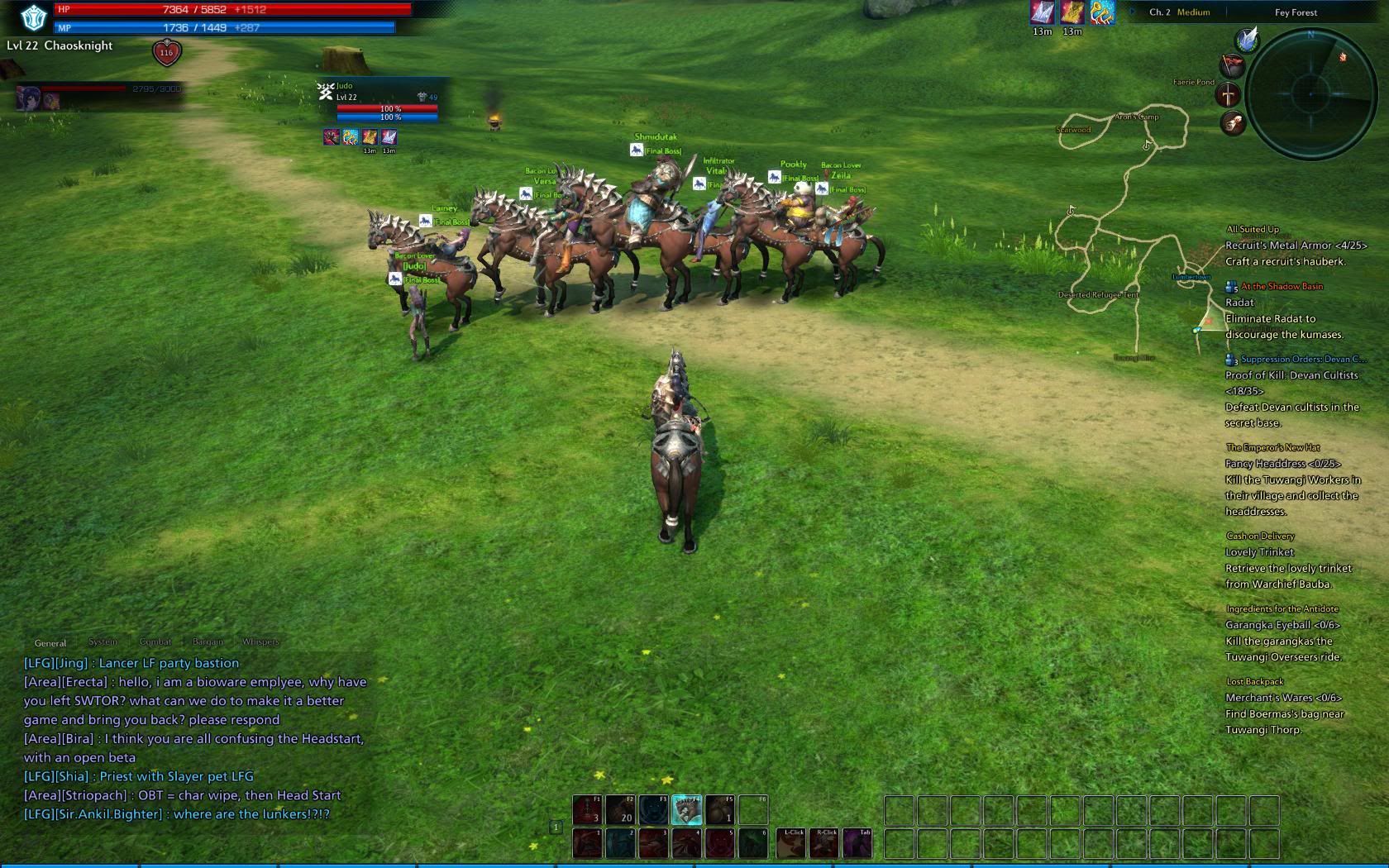 They're doing what you think they're doing
Overview:
Tera is unique action MMORPG that abandons the traditional target and lock on combat system in most generic mmorpgs like WoW, SWTOR, and Aion. The combat is similar to games like Vindictus, Dragon Nest, and C9 where most skills are purely directional and very unforgiving if players even just barely glance by their target with their attacks while sticking with the open world formula instead of having all the contents inside instances and dungeons.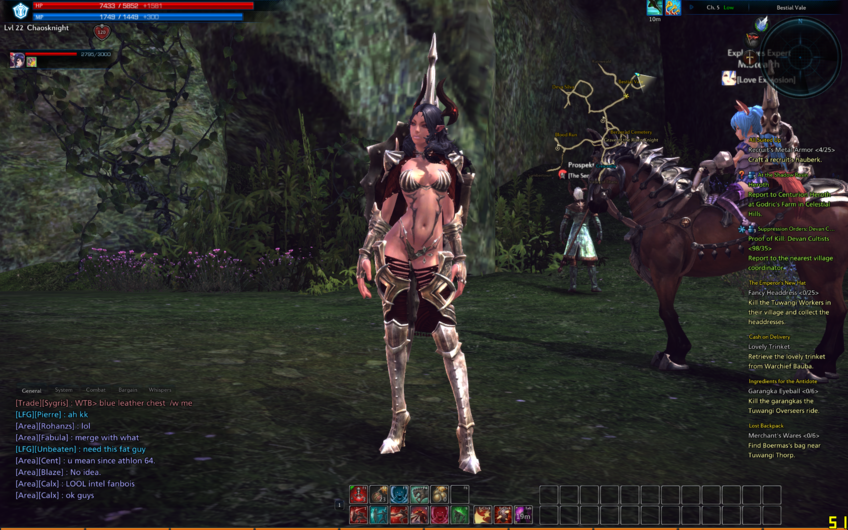 Definition of Plate armor in Tera: Bikinis
Day 1: Leveling and Questing
The first character I made was a lancer, it's a tank class with high survivability, high pve threat generation, early level mobility skills, but low to medium damage output. As with almost any other MMORPG, leveling up is majority part of the game, it took me approximately 10-12hours to get from level 1 to 22 (22 being the max level on current last CBT) on my lancer by mainly doing quests and finishing the last two levels in group dungeon runs. There's enough quests in the game so far that players won't have to raw grind mobs for level. Questing is overall generic, go kill X of these walking trees, collect X of random crates, escort a giant angry unicorn back to town, go run around in circles and be an errand boy, and the occasional giant boss mob of the zone. Anyone that's experienced with mmos are familiar with these, love them, hate them, atleast it's better than pure grinding and committing genocide on 239187239 lizardmen in stereotypical grindy Korean games *cough Lineage II and Aion*.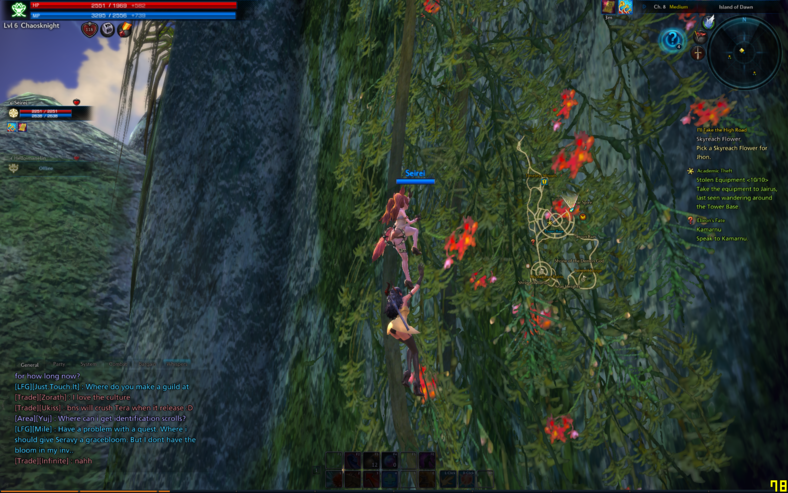 This would be more fun if we can kick people off
Day 2: Group Play and Professions
The second day I spent most of my time running the level 20 instance Bastion(the only one group dungeon currently) over and over mainly because I enjoyed group play and collecting phat lootz. Group pve in Tera is a very unique experience because players don't just run up to a mob and spam their damage rotation 12345 over and over, the bosses jumps all over the place, and it's every player's own responsibility to avoid big aoe damage because 99% them are avoidable (hey, maybe finally people can't just blame on the healer every time they die to something stupid like standing in the fire).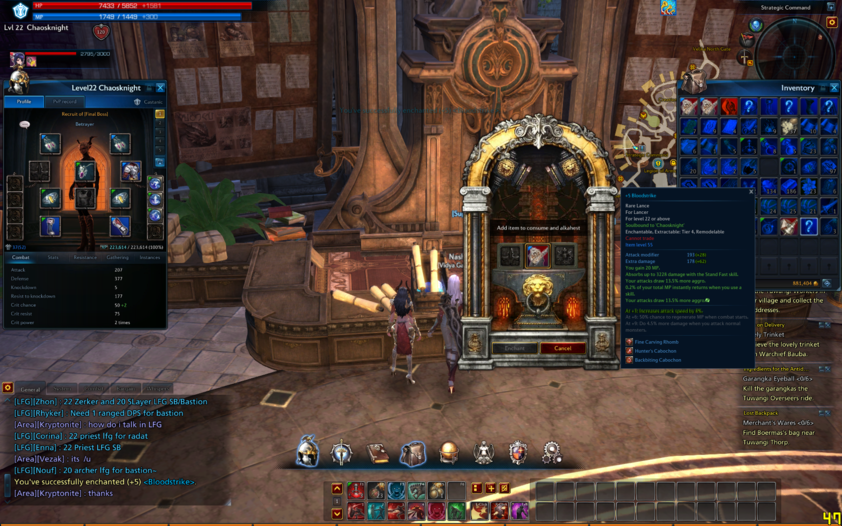 The enchanting slot machine, sometimes you win a enchant, sometimes you waste money
I also dabbled around with crafting, gathering, and enchanting. The crafting professions in Tera is very similar to Aion, players have the choice of leveling up crafting either by making items with actual gathered mats or doing repeatable quests that tells players to buy X and Y from a vendor then combining them (the later choice usually being the fast but expensive way to level up). Players can gather ores, plants, and crystals that spawns almost everywhere in the wilderness and respawn fast for mats, or they can dismantle weapons and gears for mats of their choice. Players can also enchant their gear with gems and stat enchants. The gems can be socketed, removed, and re-used over and over, almost like a piece of individual item. The enchant system is also similar to Aion, players can destroy a item to make the stats on another item go up and allowing multiple enchants to stack up to 9x or 12x, and also dye and remodel items to look differently.
Poking a giant rock man with a toothpick will eventually kill it

Day 3: Dueling, Group Team Deathmatch
I spent the whole day dueling players from every class and playing in group duels called Deathmatches that allows up to 12vs12 all for the sake for fun and nothing serious and I enjoyed the pvp aspect of the game more than everything else. The game have a built in betting system for duels for people that likes winning and losing money for kicks and giggles. There are some class inbalances when it comes to duels and pvp in general, of course it's only lvl 22 and group pvp it's where it counts, so no judgment until level 58.
Popori customization: Choose between pandas, beavers, pokemons, dog, and inspector Gadget.
Ending Thoughts:
The game is overall pretty polished, it's open world, and its combat is what stands out compared to other mmorpgs.
With the new pvp server coming out, political system (come on, who wouldn't want to be a Nazi dictator), and chronoscrolls (ingame tradeable subscription time, http://tera.enmasse.com/news/posts/introducing-chronoscrolls ) CAN'T WAIT TILL NEXT CBT!
Tags:
Bookmark and share to your friends