Recommended
Terrace of the Endless Spring Raid Preview

By: Stan D

posted at Sep 03, 2012 6:56 am
Today, we'll have a preview of Terrace of Endless Spring, which is a raid introduced in the Mists of Pandaria expansion located in the southern end of the Veiled Stair zone of Pandaria. (Very close to the Black Market Auction House).
This raid becomes unlocked only after completing the Heart of Fear raid.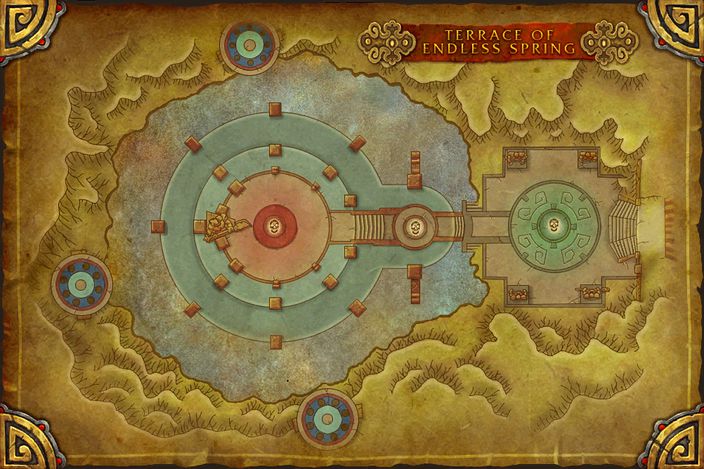 The raid has four bosses. Once you defeat the final one on normal, you'll automatically unlock the heroic difficulty.
As far as loot is concerned the itemlevels are always +13 / difficulty as seen below.
10/25 LFR difficulty will drop items with an itemlevel 483.
10/25 Normal difficulty will drop items with an itemlevel 496.
10/25 Heroic difficulty will drop items with an itemlevel of 509.
The first boss Protectors of the Endless has some sort of what is called an Elite Mode on both normal and heroic difficulties.
On 10/25 Normal Elite, there's extra loot and items with an itemlevel of 503.
On 10/25 Heroic Elite, there's extra loot and items with an itemlevel of 516.
Protectors of the Endless: (Protector Kaolan, Elder Regail, Elder Asani)
Health: 55M-253.8M (63.7M-287.9M Heroic)
When the Sha of Fear invaded the Terrace of Endless Spring, three venerated jinyu protectors were corrupted, and they betrayed the other mortal sentinels, slaying them all. The twisted guardians have now turned their attention to any intruders who might interrupt the sha's attack on the area's last defenses.
Lei Shi
Health: 125.6M-376.8M (251.2M-753.6M Heroic)
For countless years, this friendly water spirit frolicked in the Fountains of Endless Spring with childlike wonder and glee. When fighting suddenly broke out in this peaceful place, Lei Shi saw the crystal-clear water turn cloudy and murky, and the terror fell over her mind.
Tsulong
Health: 158.8M-476.3M (209.8M-629.3M Heroic)
Legens speak of a spiraling, golden serpent that can sometimes be seen high in the sky, basking in the sunlight above the clouds. The few who claim to have observed it themselves say the creature is fiercely protective of the terrace.
Sha of Fear (Main Boss)
Health: 167.9M-503.7M (453.4M-1360.1M Heroic)
The Sha of Fear is the physical manifestation of terror in Pandaria. Imprisoned by the legendary pandaren emperor Shaohao long ago, the entity has been newly strengthened by rising conflict across the island.
Bookmark and share to your friends