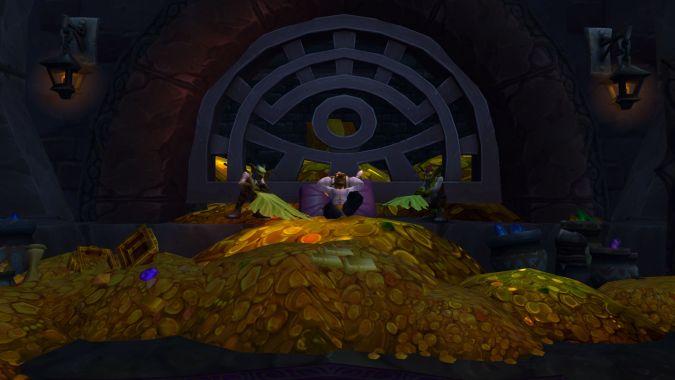 There are two types of players in World of Warcraft. Farmers (aka those who farm for mats to get gold) and those, whose longest way for profit is from the Auction House to the Mailbox and back. Let's be the second type! Not only is it more convenient, but it's far more fun!
The method that we'll be exploring in this guide is AH flipping with Enchanting. The only requirements are the Enchanting Profession on one or more characters and the Auctioneer Add-on. I will be explaining in detail how to use this add-on to its full potential.
Requirements
So as mentioned above, the only requirements for the AH flipping gold making method are as follows:
1.) Enchanting Profession on one of your characters.
2.) Auctioneer Addon. Download it from here. Alternatively you can download it from Curse.
Installation
Extract Auctioneer (using WinRAR or similar software) and copy it over to /WoW/Interface/Addons on Windows and /Applications/World of Warcraft xx/Interface/Addons if you're on a Mac. Once you launch the game make sure to check if you've got all dependancies enabled and that all add ons are up to date.
Joining the Game (Completing Your First Scan)
If Auctioneer's enabled, head over to the nearest Auction House. Open up the AH UI and click on Search (the play button) and wait for the add-on to scan the whole AH for prices. Note the installation times may vary depending on the number of auctions and can take up to one hour. This is vital as it will fetch all different prices (average, highest), medians, disenchanting values and more. This is how it looks like:
Clicking on the "Play" (triangle) icon will start scanning the Auction House. This process may take up to an hour depending on your realm. The more populated realm, the more auctions thus more time spent scanning.
Navigating Search UI
Auctioneer has many tabs. Some of them may leave you confused, but today, we'll be only working with one! As you can see in the bottom, there's the Browse tab, which is the default tab for viewing auctions. What we're interested in is the "Search tab". Let's tap it. From here, we'll be navigating to Disenchant.
Things will get more interesting now! Below is a screenshot of the default Disenchant tab with different values. First it's important to add your minimum profit, a.k.a. the minimum gold you'll acquire through disenchanting various greens & blues for profit. The add-on simply searches the auction house for items that are currently put up on the auction house cheap and/or below their price and by disenchanting they allow profit (minimum is the value you've set in the Disenchant tab).
So, I've set minimum profit to 150 gold. Meaning the Search will only yield results of items for items where the profit of disenchanting a single item selling raw mats will be at least 150 gold and 1 copper. The rest is pretty much self-explanatory. You can filter the profit you're looking for. The more items you buy (you can buy items even in bulk if you set up the Snatch function) the higher your profit. This doesn't have to be done with Disenchanting only. You can do the same thing with Smelting or Milling. The add-on has lots of different and useful functions that allow for Auction House profit without having to leave the Auction House and its close vicinity. Next time, I'll be exploring the add-on's other functions.
In the last screenshot you can see Search results of my recent Disenchant search. It shows items listed according to their profit. I've set up the minimum profit range to 60 gold +, so if I for example bought the first item [Lunar Handwraps of the...], they're on a buyout for 66 gold and disenchanting them into raw materials (crystals) would yield a profit of 62 gold according to the most up-to-date Auction House pricing, which is calculated based on the most recent AH scan (which is why you don't want to skip the initial Auction House scan step). Good luck and feel free to report about your earnings below!
Tags:
Bookmark and share to your friends