Take the fight to Ledgermayne!
Prepare yourself for the Arcangrove finale! As you are reading this, your fellow players are currently in a heated battle against Chaos Lord Ledgermayne in the MMORPG AdventureQuest Worlds. Join the fight now to save the world of Lore or build a tactical strategy by reading this article!
Are you up to speed on the Arcangrove storyline? Let's give you a brief crash-course in case you have forgotten… or just haven't played it though (in which case you have some serious catching up to do): You survived the enchanting realm of Arcangrove and witnessed its fantastical wonders. You perfected your magic studies in the Tower of Magic, climbed the tallest boughs of the Cloister, sloshed through the murky swamps of Mudluk, dove to the deepest depths of the Natatorium, explored the ancient ruins of Great Gilead, and survived the fiery volcanic pit of Mount Mafic. You pieced together the Supreme Arcane Staff and explored the otherworldly Para-Elemental Plane of Magic, defeating the Chaos Beast on its home turf.
You think all that was a piece of cake? Um-hem…has no one told you the cake is a LIE!?
Chaos Lord Ledgermayne is waiting for YOU in the Para-Elemental Plane of Magic. And he…she…whatever-it-is… is not too happy that you have foiled its plans of world domination thus far. As a Chaos Lord, Ledgermayne will stop at nothing to see its mission fulfilled.
That's where you come in. You must band together with a powerful group of fellow adventurers and bring the battle to Ledge-head.
Every time we have encountered a Chaos Lord, they always surprise us with a new boss mechanic. (Does this mean AQW's programmers are Chaotic, too?) The first Chaos Lord, Escherion, had the new functionality of being able to take no damage while his weapon, the Staff of Inversion, was still alive—erm, still had HP… since Staves aren't technically living.
While fighting Chaos Lord Ledgermayne, it is vital to your survival that when Ledge-head prepares for his massive AOE spell that you take quickly take cover!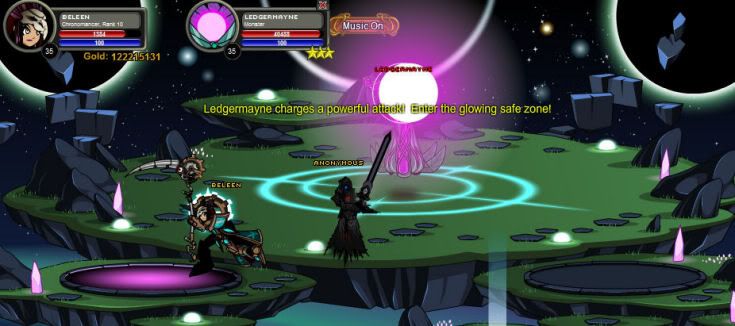 During the chaotic battle, one of two safe zones will begin to glow when the Chaos Lord is about to strike. If you want to survive (and get your chance at some awesome item drops), run as fast as you can to the appropriate safe zone or face an almost certain Respawn.
It is going to take a lot more than savvy reflexes and a decent internet connection to defeat Chaos Lord Ledgermayne. Make sure you have made the necessary preparations and have banded with a group of well-armed heroes before entering Ledgermayne's domain. Only then will you have somewhat of a shot at defeating the latest Lord of Chaos!
I hope this article has provided you with enough hints on how to defeat Ledgermayne. They say that knowledge is power… and if this is the case, then a +20 Wisdom Buff has been applied to you!
Head on over to the Design Notes for behind-the-scenes-top-secret-secrets regarding our newest update. Or you can EXP the constantly expanding world of Lore now at www.AQ.com!
Good Luck and Battle On!
Bookmark and share to your friends