Offline brawler: Ragnarok Battle Offline

By: DrProfessor

posted at Sep 09, 2009 4:53 pm
With Ragnarok online being on of my favorite mmos of all time (seriously) and perhaps one of the most famous mmos of all time as well, I think it's only right that the dear community at MMOsite be first to hear my review of Ragnarok Battle Offline.
INTRODUCTION:
Ragnarok Battle Offline is a sidescrolling Brawler Created by the doujin game company- french bread French Bread
. The way I heard it is: Gravity was so impressed by French Breads fan, parody game that they released it as a full package outside of japan. Released in singapore, korea, and thailand, and even released in english by Level Up- the philinine provider of ragnarok online. However- the english version is only the first version, when there was already 3 expansion packs everywhere else. The game features your favorite maps from ragnarok online like prontera's Gates, Morroc desert, Orc town, sunken ship, and more. It also gives the player a choice between leveling one of any of the six first job classes, and a male and female version of each. (which play a little differently from eachother)
PRESENTATION:
The Graphics in
Raganrok Battle Offline are bright and colorful. When you strike an enemy, or a dozen (there are some levels which give you that chance) It feels great. Its the kind of stress relieving game where the feel of hurting an enemy is the best part. The game is very tweened, and while you could call that a short cut, it works well with the style here. The games characters are all permanantly chibi- If you were to measure thier body in heads, they would only be about 3 or 4 heads tall, as a pose to 8- While chibi, the characters are still very detailed and certainly carry all the details that you remember in ragnarok online. The backgrounds also were worked on, characters of all different classes from 1st to 2nd job are scattered through out the background talking, openning shops, and being pwned by monsters as you'd see normally. I cant read what they are saying but I can still tell that the game has a sense of humor when I see a knight with a line of porings for me to attack chasing him or a noob be killed by a mob of thief bugs in the background. The game brought back only the fondest of memories from ragnarok online . Now, the Music in this game is everything it should be. The tracks arn't taken directly from ragnarok online however somehow they all match the levels perfectly, giving the same feel I had playing ragnarok one.
CLASSES: Character Select!(Sorry to make this so large, I wanted all classes in one shot, butIm at a loss for pictures here!)
Because the classes are pretty important and all change gameplay alot, Ill go over them next. Remember that theres a secret about the classes, youll just have to beat the game and find out. heres a hint, youll have to beat it 5 times.
Swordman: The swordman is the class with massive Health and can do its damage. While slow, the swordman can use magnum break to bomb most of the screen and become invincible for a while, and bash to just do massive damage with one attack.
Thief: T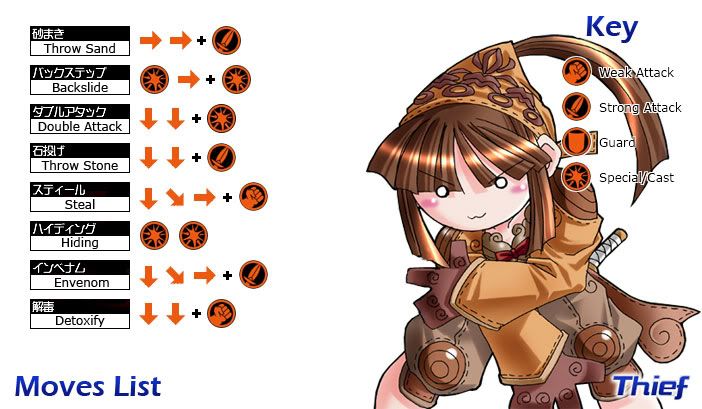 he thief is super fast, youll be blazing through levels and find most of your time doing air combos. The thief can dash through the air and is absolutely the most stylish of the classes.
Merchant: The merchant is more fun than you would think, they do MASSIVE damage each attack and theyre rediculously slow. The merchant can mug enemies for money which can be used by the merchant for certain attacks.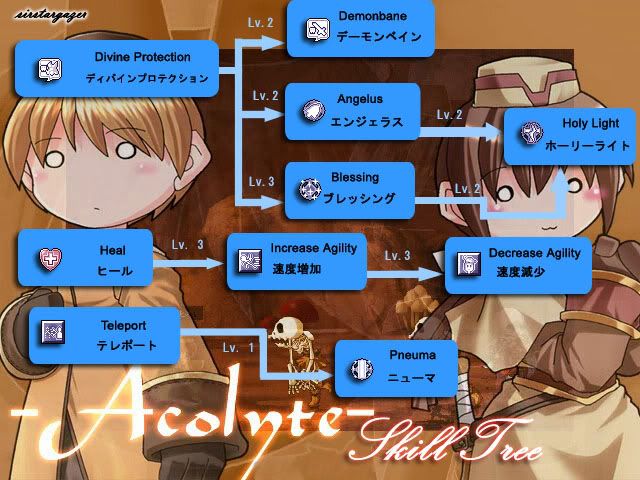 Acolyte: The acolyte is the supporting class. But, give them a bit of strength and buff them up then see what happens. They can teleport which can be helpfull if you get used to doing it. And they can heal others or themself which is very usefull if you want to play with friends (which I HIGHLY reccomend even if you only have on keyboard to play with)
Mage: Last but not least the mage is the magic class incase your a complete moron. The mage can put
up safety walls protecting themselves and anyone ina small space from attacks. This becomes very usefull. The mage is a hard class to get used to but you can do it.
Archer: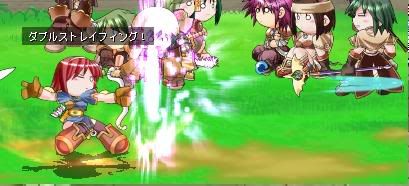 The long range class. Actually,you can stand at one side of some levels, shoot, and watch the enemies dissapear on the radar. Itspretty fun.
GAMEPLAY:
So, with this game not being online and not having any real story line- the entire thing being a parody- I can skip right to gameplay. The game play in ragnarok battle offline is undescribably satifying. Its the type of game I could play for ever without getting even a bit bored. The game has RPG elements and Action elements so Ill review them seperately.
RPG: The RPG part of Ragnarok Battle Offline is simply fantastic. The makers obviously knew what they were doing, Your able to level up by fighting and you can gain alot the same skills you could in the origional ragnarok online (thieves double strike is fun!) It works exactly like ragnarok online, which means youve got the six stats to upgrade- upgrade Strength-How much your attack does Vit-Your Health and how much damage you actually take AGI- how oftent you dodge Dex-How oftent you hit, damage for archers Int-How much damage you do as a mage/ your SP (which is actually pretty important) and Luck- How oftent you do a critical hit (which hurts ALOT)
Its not as simple as "Thief gets AGI and Acolyte gets Int" Giving an acolyte loads of str actually worked out well for me.
ACTION: Finally, the action aspect of the game is FANTASTIC. It's amazing, I loved beating everything on screen. I loved every level of this game and the most important part of a game is the gameplay. This was so fun and easy I ended up beating it to fast the first time. But not to worry because you can go through the game with every class and it will still be fairly interesting as all the classes play so differently you wont have to worry about being bored. It's great. The best part of Ragnarok Battle Offline is the feeling of killing a monster. Honestly I dont know how they do it. Its like being hit with a brick, and the brick is made of pride and satifaction.
OVERALL: I LOVED this game if you couldn't tell. I enjoyed the bright graphics, I enjoyed the music, but most of all, I enjoyed the gameplay. Its easy, its fun, If it were a choice between eating for a 2 1/2 days and having ragnarok battle offline, Id have to choose ragnarok. So I beg of you, please find a way to play this game! You wont regret it!
Bookmark and share to your friends