Recommended
RIFT: Planes of Telara - PvP Part I

By: LordYanLiang

posted at Dec 27, 2010 2:51 am
Over the past several weekends I've been struggling to get all my affairs in order, in order to actually sit down and play RIFT: Planes of Telara (instead of just announcing that each beta round was starting). Finding the time was spotty, but I managed to shove a few hours of my weekends to the side, and I commanded my crap computer to behave long enough so that I might step into the shoes of the Defiant and the Guardians long enough to see what this game was about.

My time was very limited, as I always managed to sneak into the game on Sunday in the wee hours with just a few hours to my name for exploring an admittedly gorgeous (though a bit burned) world held together by a captivating story and an interesting quest/story progression. So it didn't take long before I decided to drop all my storyline progression and start bringing the pain to any hapless newbies wandering by.

Except for the fact that they brought a lot of pain to me instead.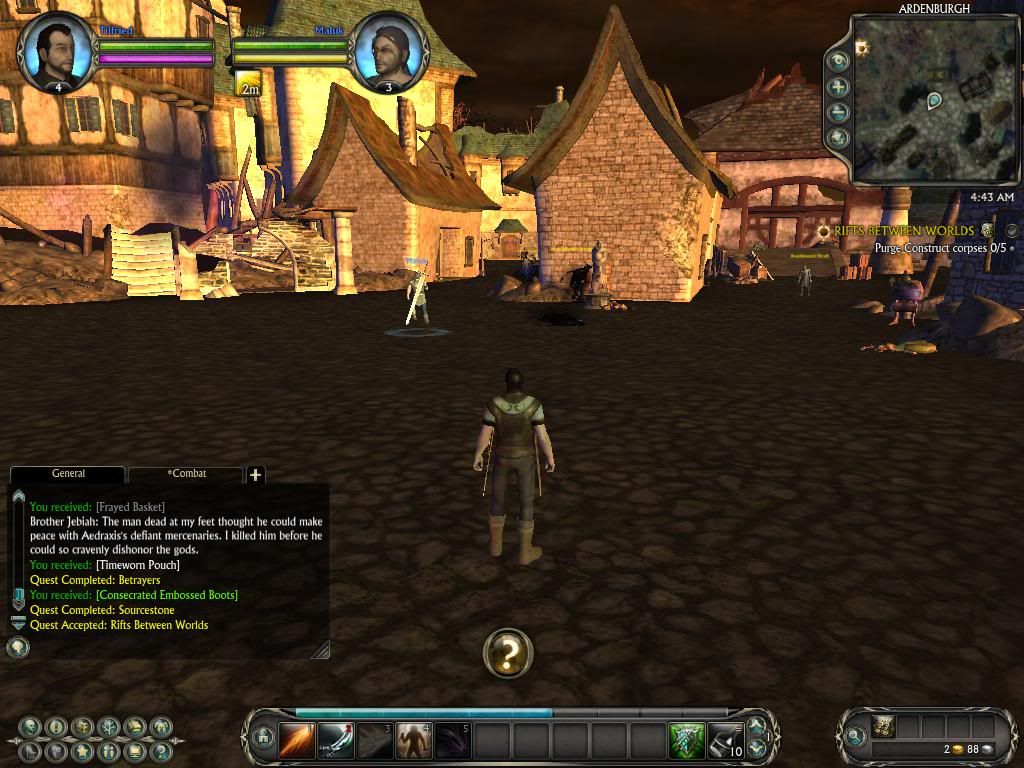 But at least I tried. During the first two beta rounds, PvP has been limited purely to one-on-one duels because each round only focused on one of the warring races found in the game at a time; the true extent of the game's PvP won't be seen until at least the third beta weekend, if not further down the road.

Yes, indeed, in the early stages, RIFT's PvP has only been limited to duels between two players, but these duels are going to be very familiar to MMO players everywhere. RIFT seems to have a recurring theme of "WoW-rehabilitation" – that is to say, a lot of the game's mechanics and interfaces are very similar to those found in World of Warcraft, when they are not exact duplicates. Dueling is no different. In keeping with the theme of making this game accessible while slowly weaning MMO players off of WoW and onto "WoW 2.0", the duel initiation and process is the exact same as what you'd find when tackling friends and foes in Azeroth. Initiation involves choosing your victim and selecting "duel" on the drop-down menu by their portraits, asking them if they'd like their face spread out across the cobblestone (or if they want the opportunity to make you eat your words – and insides). Then after an invisible countdown, battle commences. The combat style is the exact same as WoW's as well, so strategizing ought to be familiar to players.
The only thing not familiar yet is race/class-PvP effectiveness, but even within the confines of RIFT itself, the rules and guidelines are not yet clear. Trion Worlds made some major overhauls to all their characters during the downtime between the first and second beta rounds, and the rules for PvP have changed drastically during this transition. In keeping with WoW's time-honored PvP tradition, my character with the Defiant was a Ranger (no pics available, unfortunately). I thought to myself "These games are similar enough; and besides, long range weapon + battle pet = pain train, right?" Wrong. The Ranger's gross lack of defense was not at all compensated, either with his attack power or with the power of his pet – or even with the combination of the two. Moreover, players were able to evade my wolfy companion and get to me with no problem whatsoever. They also had the advantage of being able to jump around me, move around, and attack like crazy hornets while I was left relatively immobile, and once they were inside and had me fighting with my dagger, there was no hope for me. Of all the players I engaged that day, the only one I could beat was a Ranger one or two levels lower than me. Everybody – EVERYBODY – else wiped the floor with me.


So I took those lessons home with me, and waited until the second beta round. And this time, I went with a Nightblade, one of the other Rogue variants. Nightblades had been popular in my PvP server in the first beta round, and had given me quite a bit of trouble. The only problem with that logic, however, was that the overhaul Trion Worlds made that I mentioned earlier changed a lot of the rules that applied directly to me. First of all, the idea of moving combat became a lot more limited, so my previous strategies were thrown out the window. Second of all, Nightblades became far too squishy, and their offensive powers took a hit, so my damage output did not compensate the way it should have (a lot of this also has to do with the new race selection found under the new factions, as one might expect). Of about four or five duels, I won a grand total of none of them.


But the good news to come of my tales of failure is that Trion Worlds is committed to re-purposing and re-balancing all of their classes for what will promise to be an interesting PvP scene, as evident in the sudden and drastic changes to everything I knew and understood about RIFT's PvP combat mechanics. I found it surprising that the Warrior classes, typically reserved for tanking roles only, were surprisingly effective in a PvP environment during the first round. Whether or not this will hold up in future rounds and releases, however, is anybody's guess. I, for one, am eager to see what RIFT does to redefine PvP play as we know it versus the tried-and-true principles WoW has served to reinforce over the past few years.

And that being said, there's still far more to come in the realm of PvP in this game. The next beta round ought to incorporate both the Guardians and the Defiant, and with that, surely arena scenarios and mass PvP content will be introduced. For those of you who are more PK-minded, I will be exploring the expanded PvP gameplay when RIFT's third beta weekend begins – provided my predictions are correct and Trion Worlds provides more PvP gameplay scenarios. As for whatever major changes occur with class balance, I will do my best to pass the word on so that the rest of you can show your teeth and spread dread and frustration to your fellow gamers when RIFT: Planes of Telara becomes available to the general public.

Maybe I'll try a Ranger again...you never know, right?
Bookmark and share to your friends