During a week of April Fool's jokes and pranks, Aeria Games dropped a very real announcement, and for players of its popular MMO Dynasty Warriors Onine, it was a good bit of news to be true during a week of pranks.
That news? During the second week of April, players would be able to meet the game's GMs all week in an event Aeria called "Meet the GMs" (fitting, no?). Every day, for about an hour, one of the game's GMs would pop into the Peach Garden for about an hour, where they would answer questions and take comments and generally mingle with the general population while promising to jump into fights on their player accounts to mix it up with the rest of the community. The event turned out to be a successful sort of open house, with the sort of turnout that...
Well, see for yourself.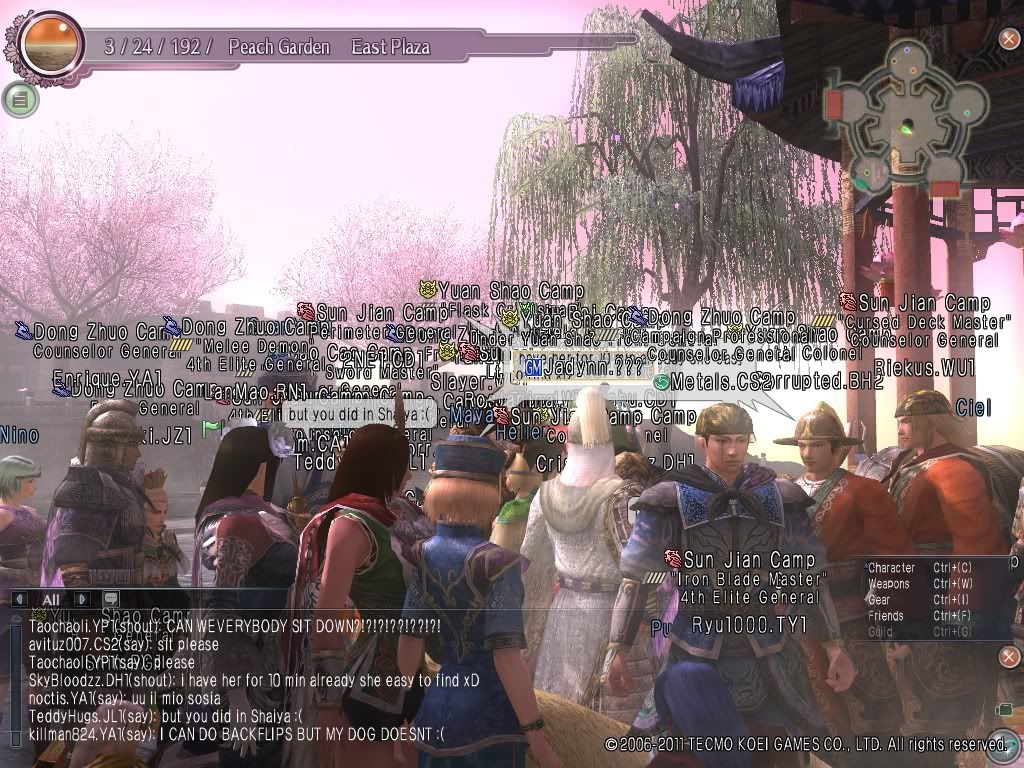 The crowds were so thick that large portions of the community would disappear if one stood in the wrong place (especially for GMJadynn, who was highly popular).
The event was a good way for people to get to know their "higher powers", and lob some questions about bugs, content updates, etc. while making some suggestions, and the GMs were very friendly and receptive.
During the event, I was able to meet three of the game's four Game Masters: GMJadynn, GMDropkick, and GM1fastcrx. Dropkick and 1fastcrx agreed to answer some questions at a later time (the answers which will be posted in interviews when they come), but Jadynn agreed to meet me in-game immediately after her hour was up for an impromptu interview, where I asked her some questions about some of the things she had to say during the event, DWO the game, and what we could expect for the future.
LordYanLiang: We know that the campaign schedule is coming out in a few hours. Is there any time-table or estimate as to how long "Diao Chan's Plot" will run that you know of and/or can disclose?
GMJadynn: well Diao Chan's plot was just introduced a couple weeks ago, so I can say that it will probably last a while. How long exactly, that I don't know for sure
LordYanLiang: How about the next scenario hereafter? There's been some rumor that we'll be visiting the campaign for Luo Yang and the famous battle at Hu Lao Gate*. Can you confirm or confound these rumors?
GMJadynn: not to me at at least :( I'm almost sad I didn't hear the rumor, or get a memo lol
LordYanLiang: What's the relationship like between TECMO KOEI and Aeria? How often/quickly do you guys usually get word on their moves and plans?
GMJadynn: we have a really good relationship with KOEI actually. When we find bugs, they try really hard to fix them as soon as possible. As far as updates on what's to come...these they tend to keep hush hush until they're sure. which is understandable
LordYanLiang: I have noticed, ever since the closed beta, that TECMO KOEI has been very quick to jump on technical issues. As for updates, would it be safe to say, in essence, that you know when they know?
GMJadynn: well, it would be safe to say that when they're sure and when they want us to know...then we know haha. Somethings we know far ahead of time, others last minute
LordYanLiang: Ah, I see.
GMJadynn: but that tends to be the norm for developer/publisher relations. we're just lucky that they're as involved as they are and willing to fix bugs quickly
LordYanLiang: Absolutely. I am constantly very surprised by how quickly TECMO KOEI has responded to bug problems. But let's end this interview the traditional way: do you have anything you want to say to the DWO fans, or the MMOsiters that voted Dynasty Warriors Online #2 in the 2010 Reader's Choice Awards event for Best New MMORPG in 2010?
GMJadynn: I would actually like to say a huge thank you to all the players! Us GMs love this game and community very much and were really touched to hear that they voted us that high.
LordYanLiang: DWO was nominated for Best New MMORPG and Favorite MMORPG for 2010. It won 2nd for "Best New MMORPG" and 3rd for "Favorite MMORPG" -- though for at least half the event, it seemed like DWO would win 1st in BOTH categories by a landslide.
GMJadynn: honestly I was just touched that we did as well as we did. I think between the game and the overwhelming support it gets was really what helped. We have support from KOEI, Aeria, and of course the players :D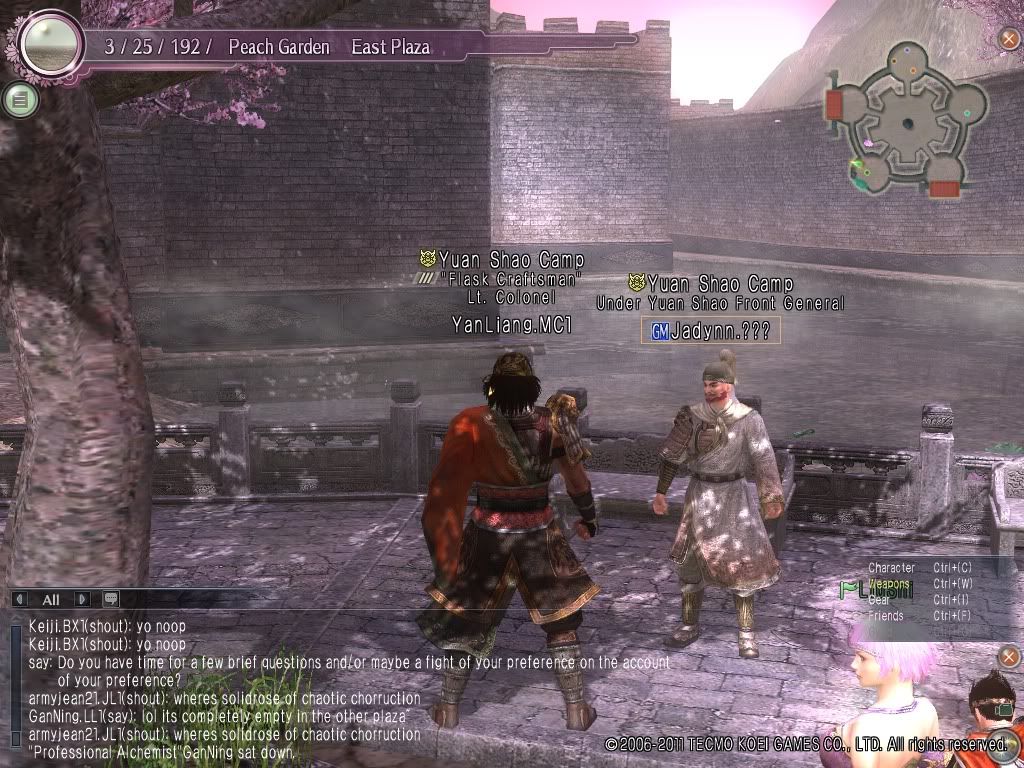 My thanks again to GMJadynn for taking the time to answer some questions for me.
Though the "Meet the GMs" event is over, in celebration of what was a successful and eye-opening look into a popular new MMORPG, I will be bringing you interviews from GMDropkick and GM1fastcrx as they come in. I will also attempt to get an interview from the game's fourth GM, GMDLO, in terms of the event in total, more about the GMs, and more of what players can expect in the future. So until then...

I am LordYanLiang.
I am the size of a legion.
I don't always forgive.
Though sometimes I forget.
Expect more interviews.
*The battle at Hu Lao Gate is the battle that made Lu Bu (who any fan of Dynasty Warriors, Romance of the Three Kingdoms, or history in general will recognize) famous, where he dueled Liu Bei, Guan Yu, and Zhang Fei at the same time.
Bookmark and share to your friends